January 9: Birthday weekend
Saturday was a big cooking day. I made vegan Shepherd's pie and my first attempt at raw cheesecake for my husband's birthday.
It was also the kick off day of NW Veg's 22 day veg challenge! I am excited to be a mentor in the program and participate in the many events. Hopefully, it will help me keep the energy and creativity I have been having around trying new recipes too so I can share them! I really enjoyed Grant Butler's talk. It is always interesting to hear how other people decided to transition their diet. I will write a post about his talk separately, and talk about the challenge.
I'm loving Minimalist Baker's website: simple, delicious recipes that require 10 ingredients or less, one bowl, or 30 minutes or less to prepare. The author, Dana is based in Portland, Oregon and focuses on vegan and gluten-free recipes. Her Shepherd's Pie passed my picky eater's test. It even has onions in it which were not remarked upon. We'll be making this simple and delicious meal again!
For the dessert, I decided to try her Raw Vegan cheesecakes that come in individual servings as the base. I wanted to try two flavors: lime and chocolate and looked at some of her other raw recipes to find out how to adapt the main recipe. This was incredible, and quite easy. Cashew-based filling, and no tricky ingredients. I had looked at one that needed Cacao (not cocoa), dessicated coconut (?), and groats (?) but rejected it since those aren't available at our local non-fancy store. It did not pass my picky eater's test (she didn't like the walnut/date crust), but that was okay because MORE FOR US! It built up my confidence to try another raw dessert soon.
We bought 40 pounds of honeycrisp apples. We eat several a day, they are so good, expect to see a lot of apple sketches.
My son made his dad's birthday dinner. They had gone to Food Front Co-op, and bought Gardein's Sweet and Sour Porkless bites. I have loved all of their plant-based meats. We try to make our meals mostly plant-based, but there is NOTHING wrong with incorporating some veggie meats into your diet. I don't think this needs to be a controversial issue. No animals harmed. And if you want to try it, I highly recommend these. One of my New Year's goals is to learn how to take better pictures with my fancy camera. Bear with me, this was a phone pic. Why didn't I take a picture of the cakes? I guess I'll need to make them again! They were quite lovely and actually resembled her beautiful photos on her website, you will have to settle for my drawing of them.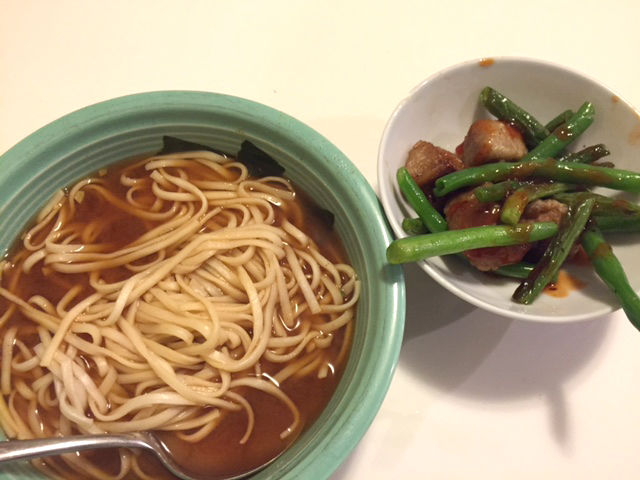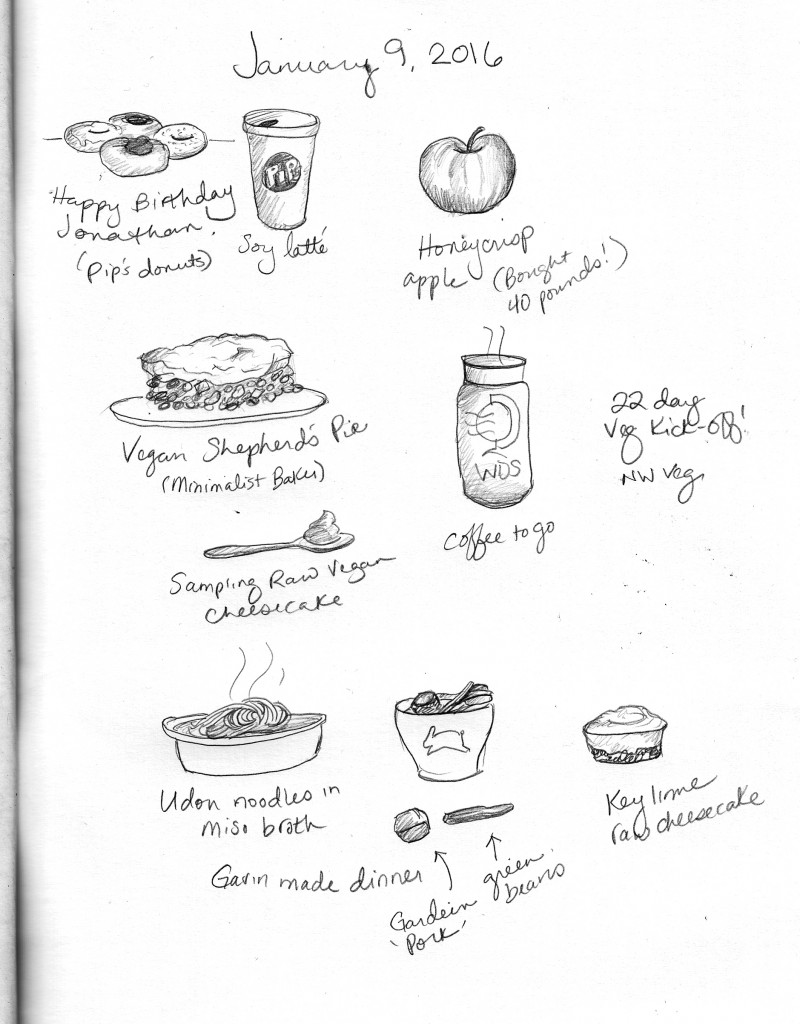 ---