Everyday Cheesy Mac recipe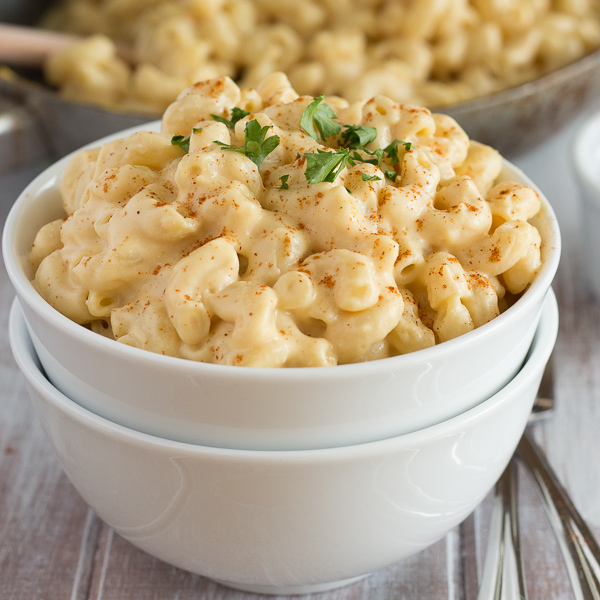 I am in love with this Cheesy Mac recipe. Not only is it creamy and delicious, it is healthy and easy! I've made it twice so far, and tested it on 4 unique picky kids (well 3 are really picky), and one very honest husband. It has received high marks from everyone.
Cheesy Mac
Ingredients
10 ounces dried macaroni or other pasta (or about 2⅔ cups)
3 small yellow potatoes (about 1 cup)
1 carrot, diced (about ½ cup)
½ onion, chopped (about ½ cup)
¾ cup water (preferably use liquid from pot of boiled veggies)
½ cup raw cashews
¼ cup coconut milk
2 tablespoons nutritional yeast flakes
1 tablespoon lemon juice
1 teaspoon salt (or more to taste)
¼ teaspoon garlic powder
¼ teaspoon paprika
¼ teaspoon turmeric
Instructions
Bring 3 cups of water to boil in a small pot. Cook the potatoes, carrots, and onion in the boiling water for about 10 minutes, or until vegetables are tender and soft.
While the vegetables are cooking, add all the other ingredients (except veg water) to a high speed blender. Add the veggies at the end when they are soft enough to blend, using a slotted spoon to remove them from cooking water.  Add ¾ cup of that cooking water to your blender and blend until smooth.
Cook macaroni in a large pot of boiling salted water according to package instructions (al dente). When finished, drain, and put back in the pot. Pour the cheesy blended sauce over your cooked macaroni noodles, stir, taste for salt, and serve immediately.
Optionally, place macaroni mixture in a baking dish, sprinkle with bread crumbs, and bake at 350 degrees Fahrenheit for 15 minutes, or until crumbs are turning golden brown.
This recipe is adapted from Lindsay Rey's Vegan Yumminess
---