Jonathan's favorite pancakes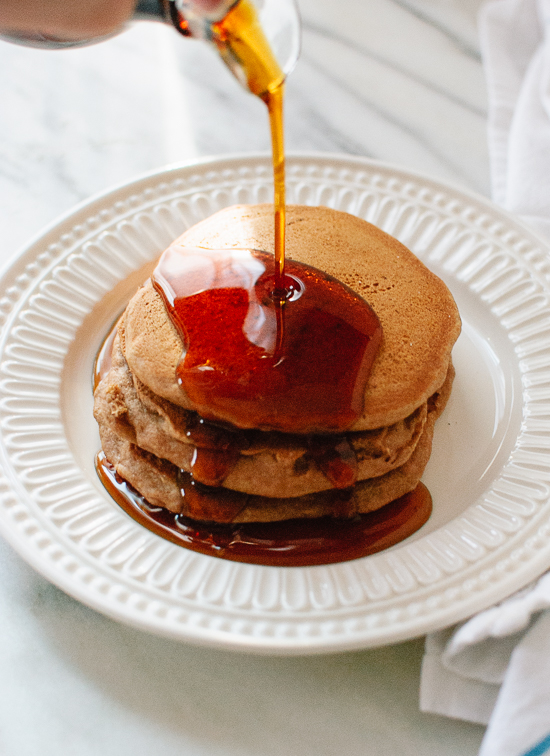 My husband resisted a bit when we cut out eggs and milk, mostly because he needs them to make pancakes for the kids.
He created this recipe based on
one from Cookie and Kate
that makes about 6 pancakes (about perfect for 2 kids). There may be many options out there, but he likes this one and is sticking to it! (Our photo to be added next time we make these)
1 cup whole wheat flour (or regular)
1 T baking powder
¼ t salt
1 cup soy milk (or almond)
2 T vegetable oil
2 T maple syrup
1 t vanilla extract
More oil to grease your pan/skillet, if necessary
In a mixing bowl, whisk together dry ingredients. In another bowl, whisk together the milk, oil, maple syrup and vanilla.
Pour the liquid mixture into the dry mixture. Stir until combined, so only a few lumps remain (don't over-mix or your pancakes will be tough!). If you'd like to mix in any totally optional add-ins (like chocolate chips or blueberries), gently fold them in now. Let the batter rest for 5 minutes so your pancakes will be nice and fluffy.
Meanwhile, heat a heavy cast iron skillet or nonstick griddle over medium-low heat.
If necessary, lightly oil the cooking surface with additional oil or cooking spray.
Using about ¼-cup of batter at a time, cook for 2 to 3 minutes until small bubbles form on the surface of the pancakes, and flip. Cook on the opposite sides for 1 to 2 minutes, or until golden brown.
Repeat with the remaining batter, adding more oil as needed. You may need to adjust the heat up or down at this point. Serve the pancakes immediately.
---