New favorite vegan cookie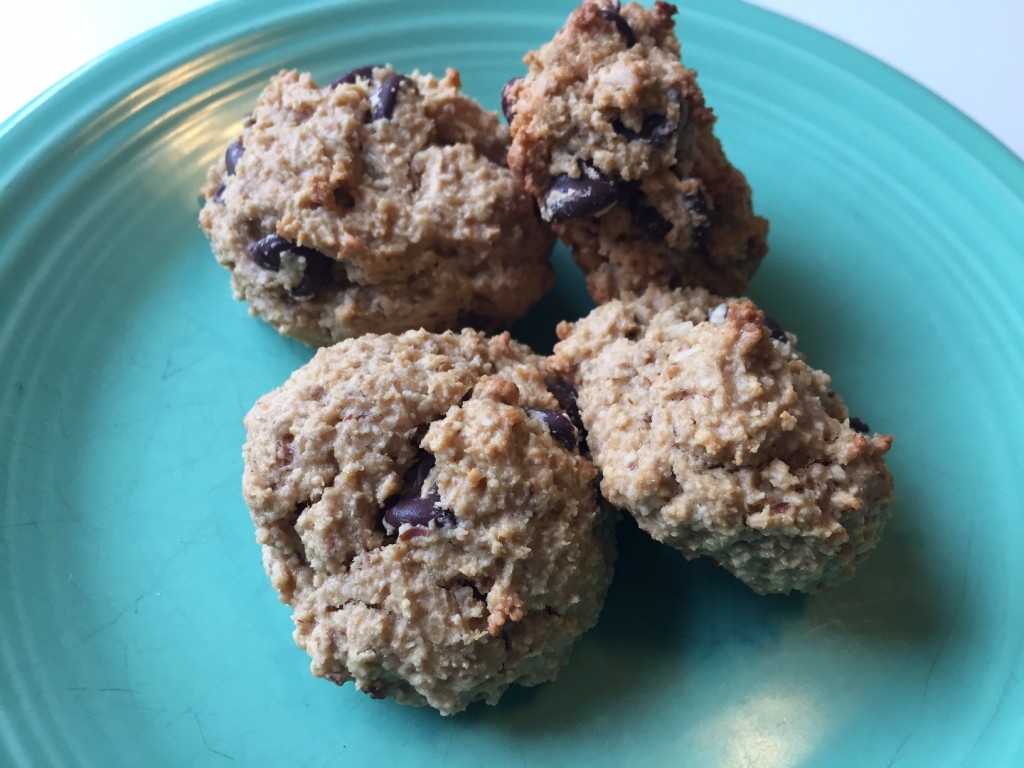 My first favorite cookie has been de-throned! I'm in love with this new recipe.
Last night, looking through the internet for a different recipe to try, I was a little shocked by some of the amounts of oil. One recipe asked for 3/4 cup oil. My other recipe uses 1/2 cup coconut oil. I have been hearing mixed reviews on coconut oil lately, more about that later!
What attracted me to Fork's Over Knives Lunchbox Chocolate Chip Cookies was two things. One, the recipe is by Isa Chandra Moskowitz, vegan cookbook goddess. Second, it uses almond butter and flax seeds to add more protein and Omega oils.
I was getting ready to haul out my trusty mixer but the recipe says, mix with a fork. And doesn't ask for multiple bowls for wet and dry ingredients. Less cleaning adds even more bonus points.
Here is my own version of this recipe since I was missing a lot of specific ingredients. Like almond butter, oat flour and sorghum flour. Try mine, or go for the original!
What I really love about these cookies is they have texture. I am not into the cakey type cookies, and those flax seeds and oats make these a hearty cookie. Mine were pretty sticky, but otherwise worked great. I couldn't stop eating the raw cookie dough. Which is one of the biggest perks of making vegan cookies: no raw eggs.
My husband wasn't a fan of my photo, but he definitely liked the taste. And it passes picky girl's criteria which is a very, very high certification.
Amy's Lunchbox Cookies
Makes 24 cookies, ready in 25 minutes
Instructions:
1. Preheat the oven to 350°F. Line two large baking sheets with parchment paper or Silpat baking mats.
2. In a large bowl, use a strong fork to beat together the applesauce, almond butter, dry sweetener, and flaxseeds. Once relatively smooth, mix in the vanilla.
3. Add in the oat flour, baking soda, and salt and mix well.
4. Add the sorghum flour and chocolate chips and mix well.
5. Drop spoonfuls of batter onto the prepared baking sheets in about 1½-tablespoon scoops, about 2 inches apart. Flatten the cookies a bit, so that they resemble thick discs (they won't spread much at all during baking).
6. Bake for 8 to 10 minutes. The longer you bake them, the crispier they will be.
7. Remove the cookies from the oven and let them cool on the sheets for 5 minutes, and then transfer to a cooling rack to cool completely.
---