Newest cookie recipe: omni-approved!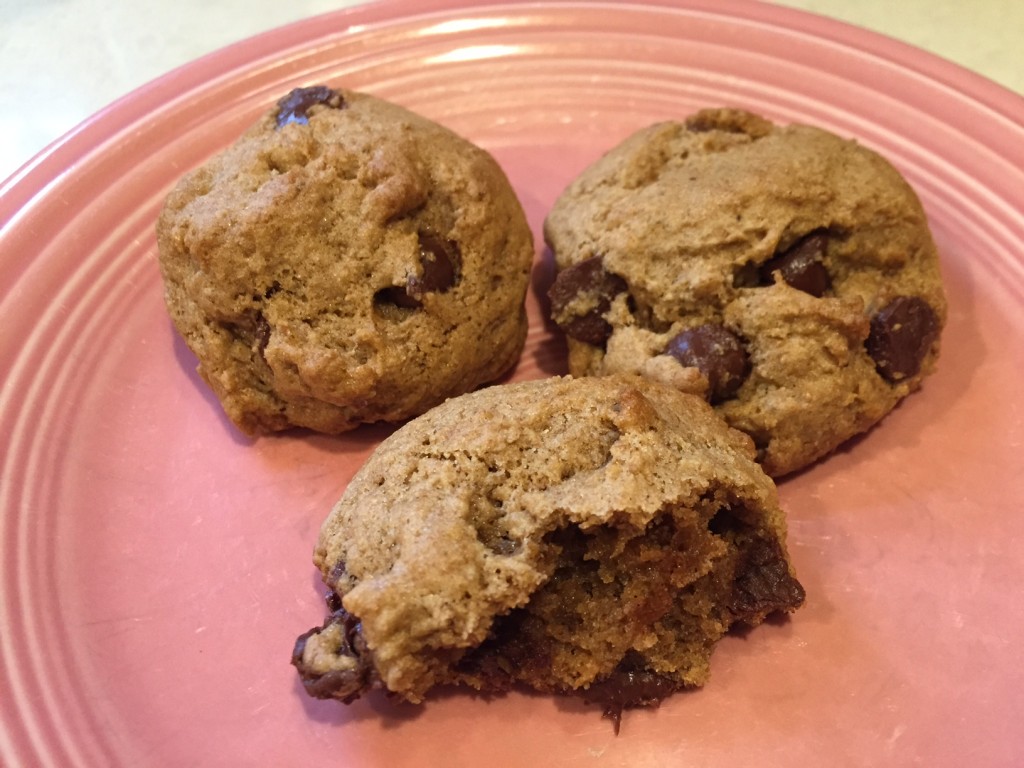 We have a new winner for cookies! Although I still love my Lunchbox cookies, I don't have almond butter on hand usually, and the recipe only makes a very small amount. Also, my daughter can't take anything with nuts to her school. In my ongoing quest for cookie recipes, there were two miserable fails on other recipes I tried. Think I am kidding?  Making it to the blog requires that it works for non-technical, bumbling cooks like myself!
This is NOT from a picture of the new recipe, will not be posting this recipe!
This recipe can make 3 1/2 dozen, and is more of a basic cookie recipe. I used this recipe as the base and made a few changes.
Everyone liked them a lot, and even though they made more cookies, they still didn't last 24 hours!
1-1/4 cups packed dark brown sugar

1/2 cup canola oil

6 tablespoons vanilla soy milk

1/4 cup sugar

1 T ground flax seeds in 1/4 cup warm water (OR 1/4 c unsweetened applesauce)

2 teaspoons vanilla extract

2-1/4 cups whole wheat flour (OR all-purpose flour)

1 teaspoon baking soda

3/4 teaspoon salt

1 cup dairy-free semisweet chocolate chips 

(1/2 cup walnuts optional)
In a large bowl, beat the first six ingredients until well blended. Combine the flour, baking soda and salt; gradually add to sugar mixture and mix well. Stir in chocolate chips and nuts. Cover and refrigerate for 1 hour.

Drop by rounded tablespoonfuls 2 in. apart onto un-greased cookie sheets Bake at 375° for 10-12 minutes or until edges are lightly browned. Cool for 1 minute before removing from pans to wire racks.

Yield:

3-1/2 dozen.
---