Next Level Burger lives up to it's name
I've been eagerly anticipating the arrival of Next Level Burger for months. This is their second store- the first is in Bend, Oregon.
What is so special about them? They are completely plant-based fast food. Not only that, all their produce is 100% organic. Their signature burger has 26 grams of protein, 330 calories and only 8 grams of fat. Healthy fast food with no animal products… wrap your head around it for a minute.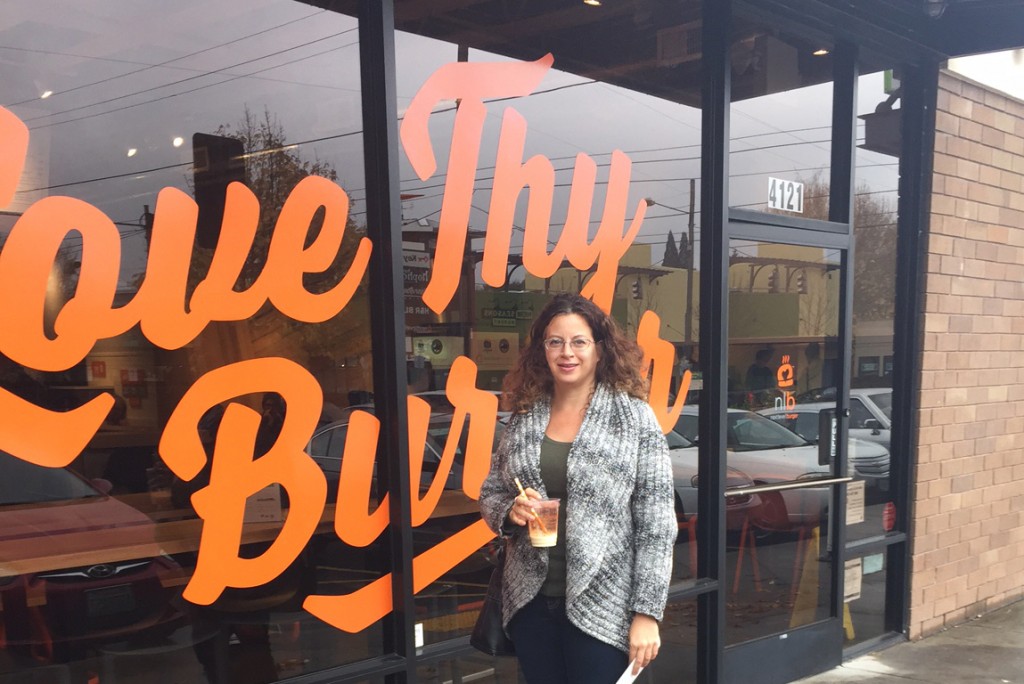 Finally, opening day arrived and we headed off to nlb. It is located in a great prime location in SE Portland, across the street from New Seasons. The graphics and design look great. The orange script lettering on the outside window proudly proclaims "Love thy Burger", and there is a full orange wall with text and illustrations. In fact, every little aspect is nicely done, which I appreciate as a designer. It almost reminds me a bit of Japan, with their attention to detail and aesthetics from their little tiny unique plate designs, tiny wooden branded toothpicks in burgers and special reusable cups with compost-able matching straws. The employees seem happy and friendly- like unusually nice. I think they choose to work here for a reason and support the concept fully, or maybe they are just good employers. Anyway, no surly staff ever surfaced on any of my visits.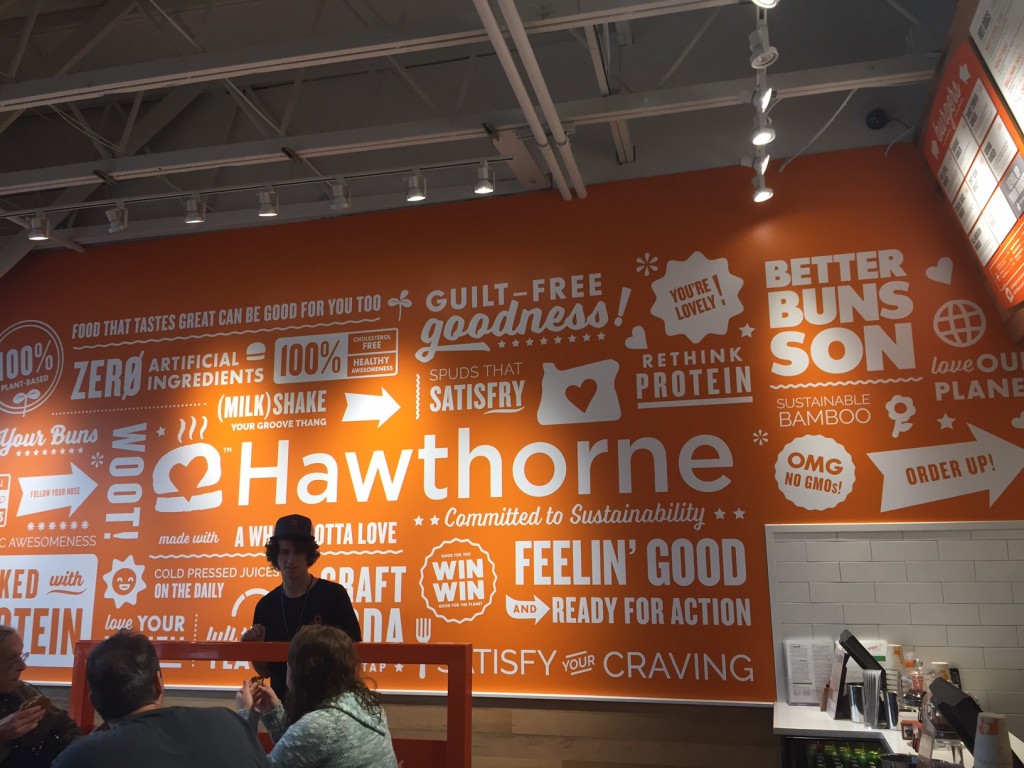 Okay, but what about the food? Well, there is a huge variety of choices there, which made me decide to wait until I had been there a few times (like a food critic) before my review.
The first visit we each had a different burger, I tried the SoCal which is a tofu-based patty. My husband had the Spicy Bean Burger. We shared delicious sweet potato fries and a Caramel Shake that was made with coconut milk ice cream (you can ask for either that or soy milk ice cream).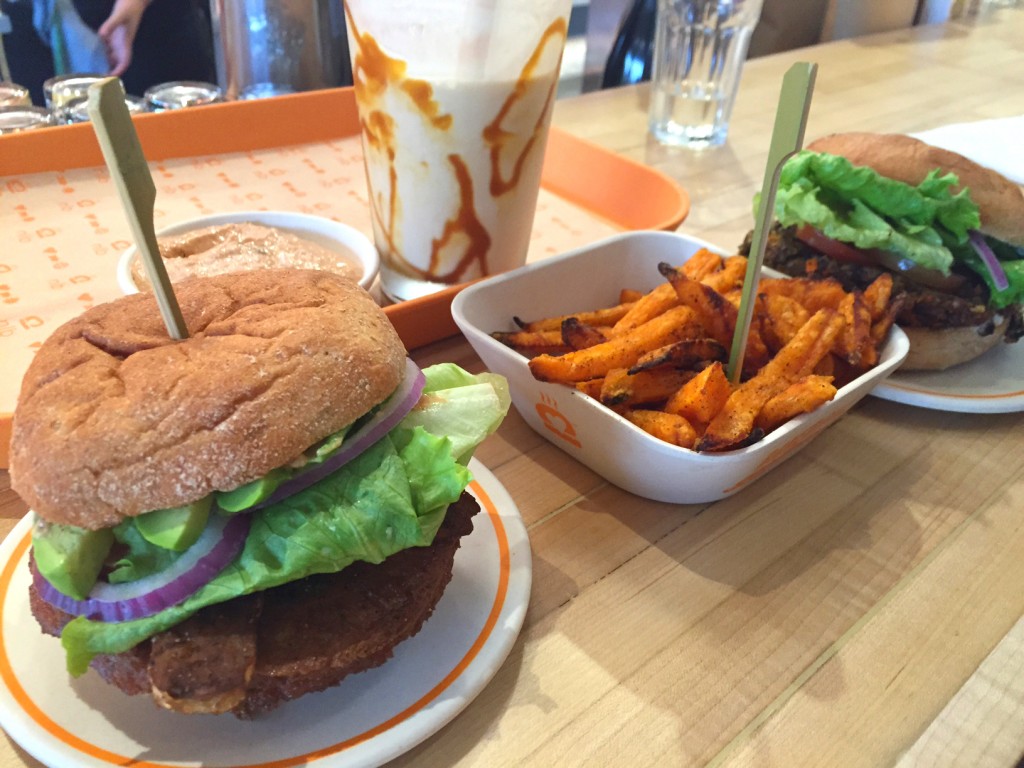 It was really good, especially the shake and fries! I don't think I even got a taste of the bean burger, but I really wanted to try the other options.
The next chance I got, my husband and son brought a "to go" order home. My boy LOVED the hot dog he got, and I had the tempeh burger which was really good! I was also very hungry from helping out at the farm, so I needed to have another visit to make sure I wasn't biased. In all the excitement, no photos were taken.
Today I got my third chance to review nlb. This time, I went for the All-American Burger which is a plant-based patty, with smokey tempeh bacon, and delicious cheddar cheese (their own plant-based version). Wow, that one was really good- probably tied with tempeh.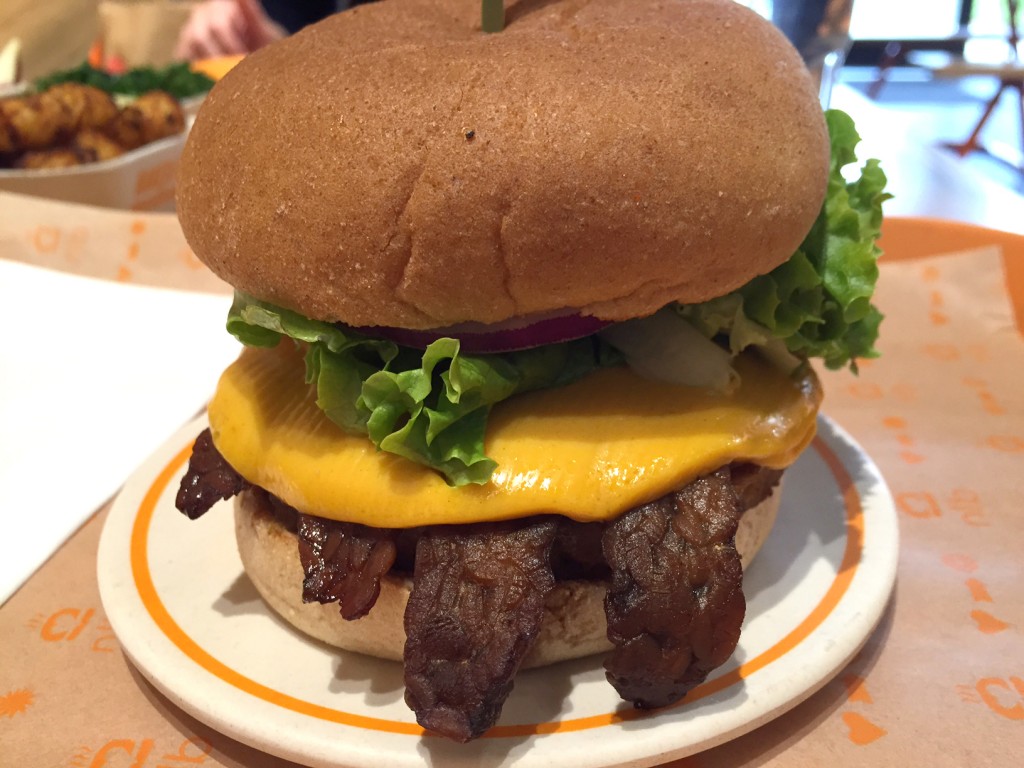 My friends ordered different burgers which they really liked as well, tater tots, side of fresh fruit and a generous side of sautéed kale with lemon. Now that's original- and delicious. The burger on the left is on a gluten-free bun, which is great that they offer that option.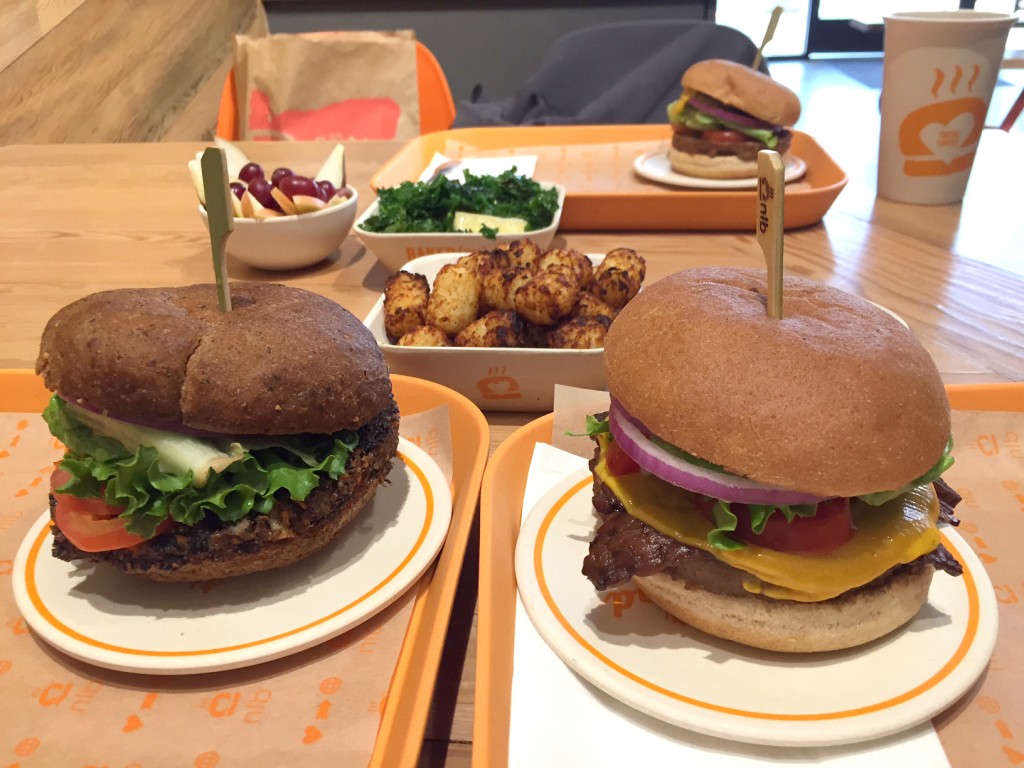 I almost held off writing this review because I need to try the quinoa burger, and I saw someone order a salad that looked AMAZING. It was huge! I am getting one of those next time, bringing a kid, and stealing bites of their burgers. They have a seasonal pumpkin and white bean burger right now too. The kids are actually wild about tempeh (which is funny, but true), so maybe a BLT sandwich for them.
It is going to take me several more visits to work through their menu. A place omnivores, vegetarians and vegans can all enjoy together. Other restaurants better take note, this place is really taking it to the next level.
---