Sept 19: Tofu scramble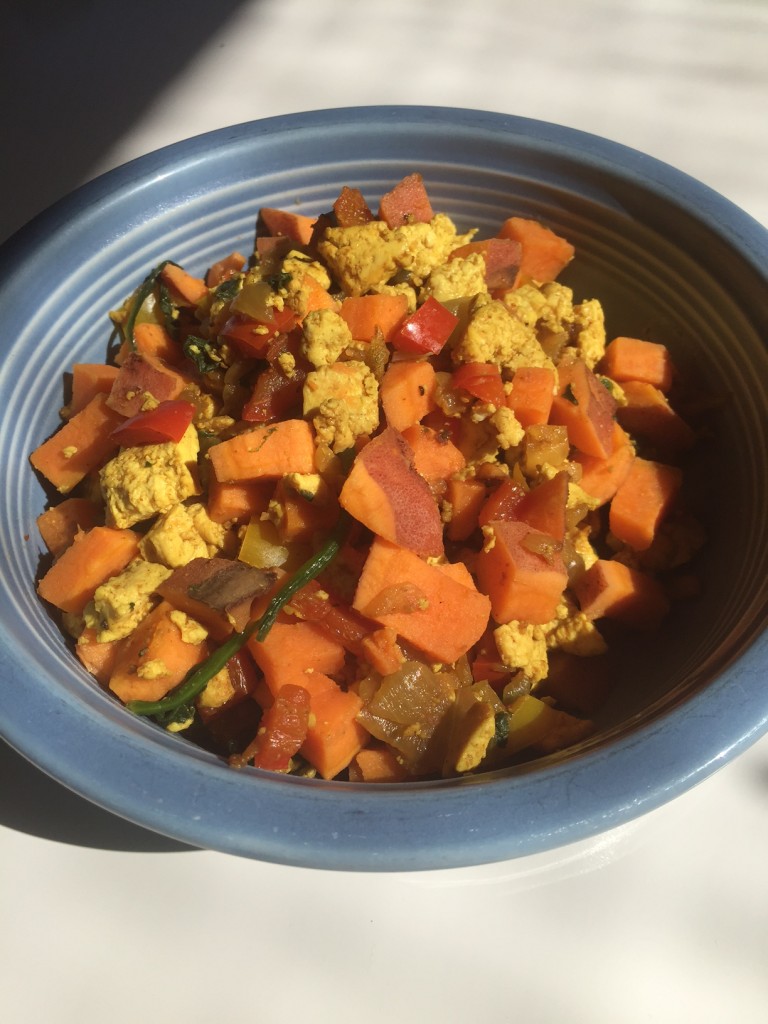 This is the ubiquitous vegan breakfast. There are so many variations on this recipe. The one I used from Meal Mentor had me sauté a whole onion to start it, with some garlic, peppers, spinach, sweet potato and of course a lot of spices to make the tofu flavorful.
I even tried to take a picture of it. It is easy, quick and cheap. I've chosen a recipe from Isa Chandra Moskowitz of Post Punk Kitchen as a starting point that gives some flexibility. I think tofu scrambles might be almost impossible to mess up!
Tofu Scramble
Serves 4
Eat it with toast, as a bowl, or in a burrito!
Ingredients:
2 teaspoons ground cumin
1 teaspoon dried thyme, crushed
1/2 teaspoon ground turmeric
1 teaspoon salt (use kalak namak salt if you have it for an eggy taste)
1 Tablespoon olive oil
3 cloves garlic, minced (or more, to taste)
1/2 cup onion chopped
1 cup of whatever fresh veggies you like: torn spinach leaves, thinly sliced red pepper, broccoli in small pieces, chopped mushrooms, etc.
1 pound extra-firm tofu, drained
1/4 cup nutritional yeast
Fresh black pepper to taste
Optional: avocado, salsa, tortillas
Preheat a large, heavy bottomed pan over medium high heat. Sauté the garlic and onion in olive oil. Add the spices and cook a few minutes.  Break the tofu apart into bite sized pieces and sauté for about 10 minutes, using a spatula to stir often. The tofu should get browned on at least one side.
Add the fresh veggies of your choice, nutritional yeast and fresh black pepper. Cook for about 5 more minutes. Serve warm with salsa and avocado if you like.
---