AR2016 / The Joyful Vegan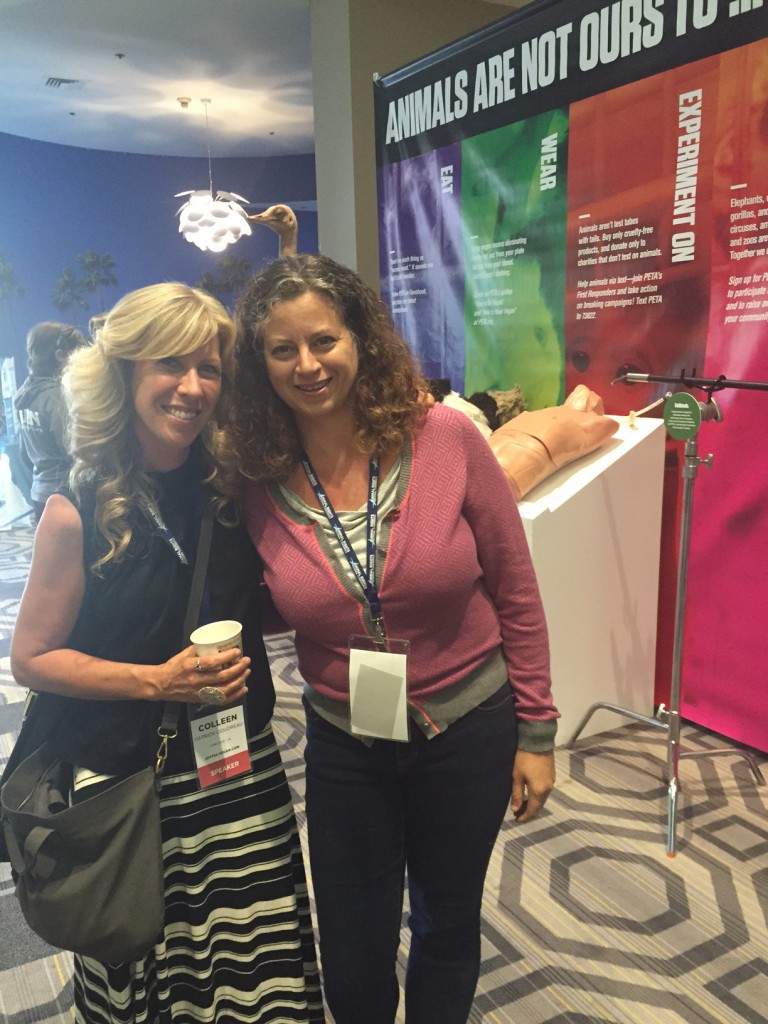 Colleen Patrick-Goudreau holds a special place in my heart. One reason is because I used her book, The 30 Day Vegan Challenge in March 2012 to start my own journey. It was helpful, practical, and positive. Her tagline is "Don't do nothing because you can't do everything. Do something. Anything." Her message is about compassion, and people choosing to align their actions to their own beliefs, not hers.
I've met CPG before, at Portland Veg Fest last year. I listened to her talks there and became even more of a fan. She is clearly very intelligent, funny, and has an almost therapist approach at times. I love her message, I love that she is such a positive and beautiful role model.
When I met her, I talked to her about how I felt about the word "vegan", and she gave me some helpful insight around that, and actually remembered me. I had hoped to go to her 1st summit that happened last Memorial Day weekend, but there is only so much California Dreamin' I can do within a couple of months! I did end up sharing a room with a new friend who went, and it sounded like an amazing experience. Hopefully I can make it happen next time.
I recommend listening to her podcast "Food for Thought" here, and check out her website to get more information and resources. I'm waiting for AR2016 to post their videos of her newer talks there.
At this conference, I attended her "10 Habits of Effective Vegans" session. I loved her delivery, it was quick-paced and concise. She makes her points logically, and gives clear tips about how to be effective. I would love to link to her video, which should be posted soon on the AR conference website.
I wasn't able to go to her second talk on a panel called "The Power of Language", but I have heard her speak to this at Veg Fest. In the Portland talk she discussed how calling plant-based meats "fake meats" can be detrimental. That instead of milk being the default name to describe dairy milk, it can be designated as cow's milk which makes almond milk, soy milk, and other milks on the same plane. Rather than being the lesser "faux" option, plant proteins are a healthy, normal option. I've seen the plant-based meats called clean protein, which I agree sounds much more appealing.
Colleen also discussed in Portland how the idioms we use continues to reinforce negative images around animals. "Killing two birds with one stone" for example, could be changed to "Cutting two carrots with one knife". It sounds funny or maybe not the top priority, but it makes sense how the ideas around animals are part of our culture and language. I was impressed at how much research she had done around this, and it is clearly a fascinating topic for her. I believe she is writing a book around this subject. In any case, it has made an impression to the point where I am more conscious about language.
On the final day of the conference, I attended her joint session with Dr. Melanie Joy called "Advice on Vegan Lifestyle". I really enjoyed seeing the relationship these two women have forged over time. They may cover different aspects, but they seem to share a very similar philosophy. It was entertaining and informative. There was so much great energy and hope in the room. It is a breath of fresh air to focus on effective positive changes and inclusiveness; not blame or focusing on differences.
I'm very inspired from these sessions. Thank you Colleen for being such a smart, strong, joyful voice in the movement.
Save
Save
Save
Save
---