Stopping pollution before it starts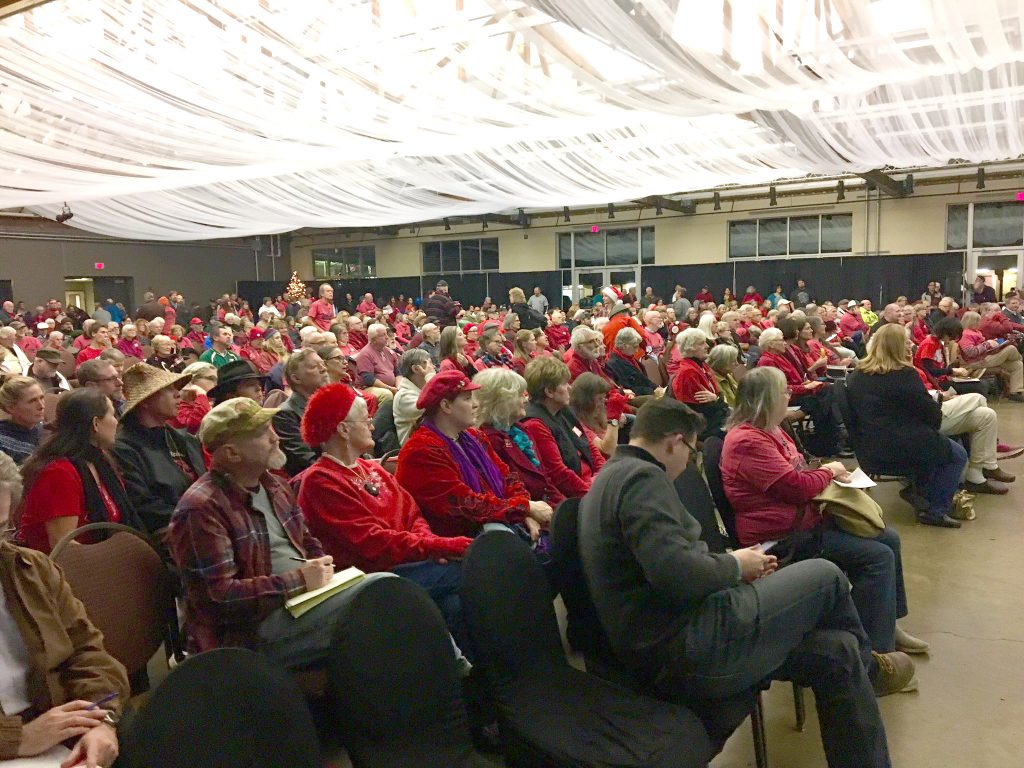 On December 13, I attended a public hearing to stop the World's Largest Fracked Gas to Methanol Refinery, proposed in Kalama, WA.
I haven't been involved in Fracked Gas activism before, but one of my Climate friends made a really good point. Rather than just work on lowering existing carbon emissions, it is vital that we stop new fossil fuel sources from starting.
If built, the refinery would consume more fracked gas than all the PNW cities combined, require new fracked gas pipelines across the region, pollute the air with cancer-causing toxins, and endanger our dwindling salmon and orca populations.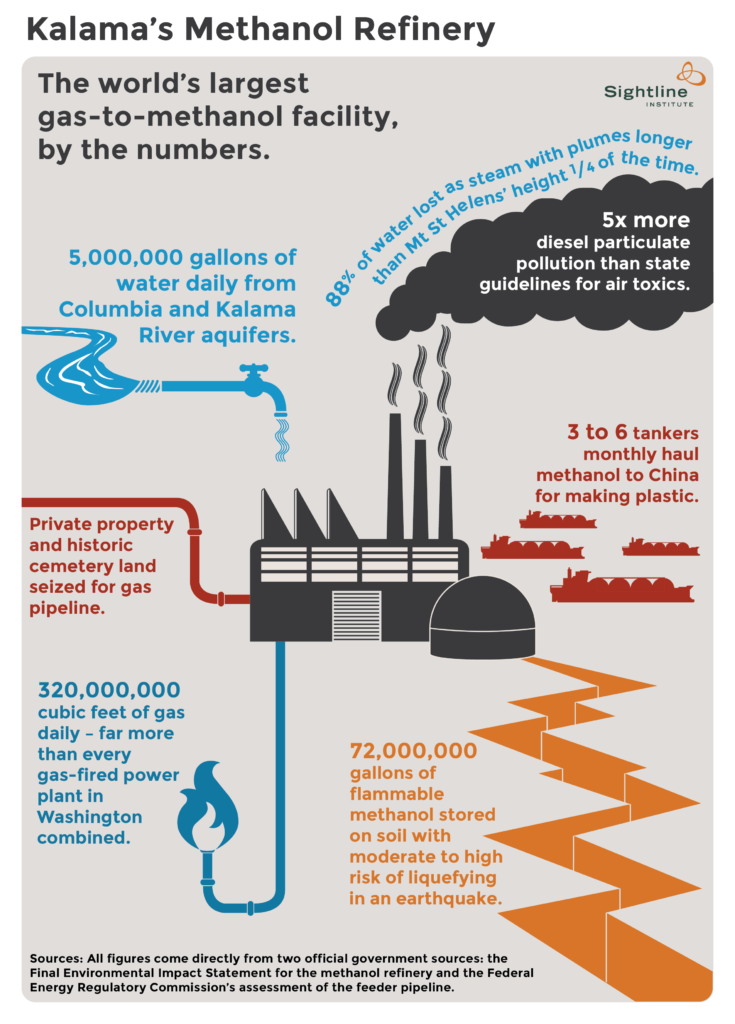 I learned that this new pipeline is proposed by Northwest Innovation Work (NWIW) and its main investors are the Chinese government and a New York-based private equity firm. Interestingly enough, the NWIW is applying for a loan guarantee of more than 2 billion dollars from the Department of Energy (DOE) which could be borne by the taxpayers. If completed, the NWIW would create a pipeline from Canada and the Rocky Mountains to the proposed new refinery located in Kalama. The fuel would then by shipped to China where methanol is used to manufacture plastics or burned as fuel.
A similar proposal was introduced in Tacoma by NWIW, but was blocked by community opposition.
The opponents to the proposal wore red and included environmental groups such as The Sierra Club, Columbia Riverkeepers, Power Past Fracked Gas and more. Those in support had a white scarf with NWIW logo embroidered on it. There were definitely a huge number of people in red in attendance. We all signed in and were given the option to sign up for a chance to speak (tickets drawn randomly in a lottery). I listened for 3 hours while people spoke in 2 minute increments.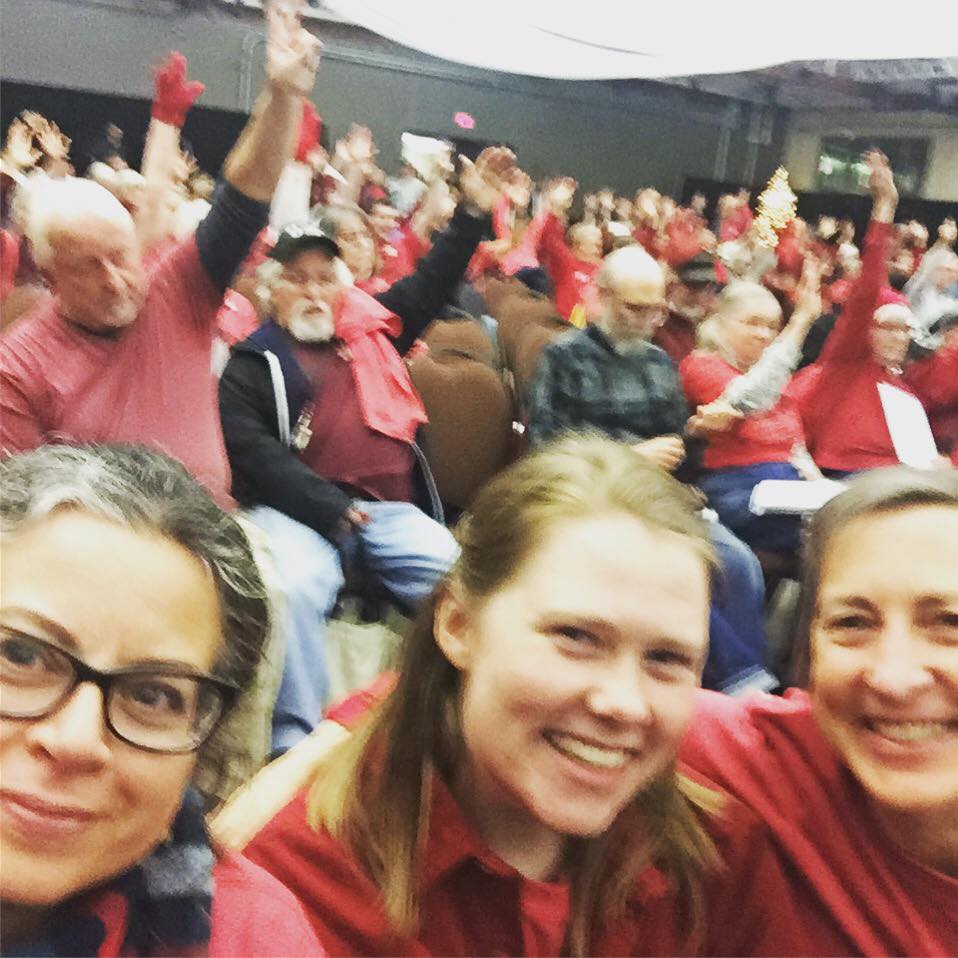 The mediator insisted that there be no audible cheering, booing, etc and that only silent gestures of support or opposition be shown (thumbs up, thumbs down). For Americans used to constantly clapping or yelling, it proved a challenge.
There were so many people signed up to speak that they extended the hearing an additional hour to 10pm. I left at 9pm, and at that point there had been overwhelming opposition voiced. The reasons were very diverse and from the viewpoints of scientists, nurses, grandparents, young people, local community members, and even political experts.
Those in favor of the pipeline were many elected officials (but notably NOT the mayor of Kalama who is opposed), local union members, and business people. Not all Kalama locals, workers or businesses were in favor. I did not hear anyone in the health industry speak in favor of the pipeline. The first speakers were all in support of the pipeline and it felt as though their arguments were being green-washed. One man made a statement how since China was already so polluted we should take this on so that they wouldn't suffer, otherwise we were being racist.
I definitely sympathized with the local Union members who insisted that they needed this pipeline to help their economy and provide jobs. Yet, it felt like everyone focused on the money was looking only at short-term benefits. Their children would have jobs! Sadly, they may also have cancer too. Pipelines have known risks.
The company stressed how safe the pipeline would be, held to the strictest regulations. If it isn't built here, it will be built elsewhere with less high standards. Well, we are now watching the government dismantle EPA regulations to the point that methane leaks don't have a short time window to fix, water may not be monitored, etc. They could be complying with legal Federal standards and it could still be a disaster environmentally. Not to mention, the Pacific NW is at high risk for earthquakes (and overdue for a major one) already which would cause major destruction beyond anyone's control.
Many locals had a lot of scorn for the "Environmentalists" who drove from Portland or elsewhere to get involved in their business. There were snide comments made about how we use cars and cellphones and yet are hypocrites to oppose the production which allows their manufacturing. Portlanders and surrounding communities are also affected by their decision as we share water and air that are not limited to borders.
We face a crisis of needing to cut carbon emissions drastically in the next 12 years to have a livable planet, and building new infrastructure to support fossil fuels is the wrong direction at this point. We don't have time.
The argument that this methanol refinery will have lower carbon emissions than China opening a coal plant is flawed. We can't be certain that they won't, but it definitely would create a huge new source of greenhouse gases. The study on risk seemed to have serious gaps and misinformation about the possibility of methane leaks, and contamination risks. Not to mention the effects on wildlife.
Another concern Columbia Riverkeeper has to this large pipeline is that it could be as bad or worse than coal.

"Why is fracked gas such a big deal? It is mostly methane, a powerful greenhouse gas. The methane leaks from fracking wells and gas pipelines are so severe that scientists found that fracked gas can be as bad for our climate as coal. Thus far, the methanol company has not explained how the Northwest's limited gas pipeline system could supply the methanol refinery. Gas companies could propose a major new pipeline into the Northwest to supply the methanol refinery."
"Aside from the financial cost, NWIW also poses significant environmental risks, according to Riverkeeper. In a report that it prepared about the refinery, Riverkeeper identifies hazards related to extracting fracked gas from across North America, storing millions of gallons of highly combustible methanol in one location, and transporting toxic chemicals via the Columbia River, which people rely on for water, food, and recreation."
As far as health, the residents of Cowlitz County already have an increased rate of cancer and other issues caused by coal trains running through their area. This should be of significant concern. Especially as we have had increased wildfires in the area, air pollution is getting exponentially worse.
Yes, they need jobs, but there are jobs in renewables. Will the trade-off be worth the 200 permanent jobs? Until we stop opening new sources of carbon emissions, we won't transition quickly enough away from fossil fuels. It is an unfortunate fact that climate change will impact those in the poorest areas first, and by promising short-term profits, they will be impacted the worst either way. It's a complex problem that we will also need to address by a drastic change in our consumption in order to reduce the need for these types of refineries.
---