Vegan Everyday Stories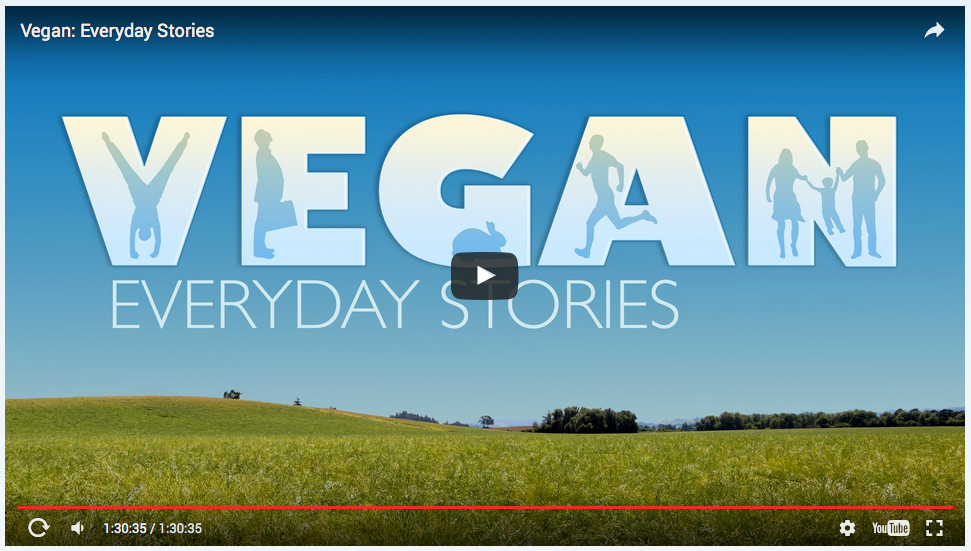 Our local NW Veg organization is a great asset to the community. They have brought some amazing speakers to Portland, and host a very large Veg Fest every year. It was exciting to see them involved in creating this new documentary. Producers Eric Day (former President of NW Veg) and Wendy Day, Director Glenn Scott Lacey and Director of Photographer Ian Stout formed a very strong creative team for this movie.
Vegan: Everyday Stories is a feature-length documentary that explores the lives of four remarkably different people who share a common thread – they're all vegan. The movie traces the personal journeys of an ultramarathon runner who has overcome addiction to compete in one hundred mile races, a cattle rancher's wife who creates the first cattle ranch turned farmed animal sanctuary in Texas, a food truck owner cooking up knee-buckling plant-based foods, and an 8-year-old girl who convinces her family of six to go vegan.
There are a number of great movies focusing on why to go vegan or featuring people new to veganism, but this movie spotlights how everyday people and their families, each pursuing their own careers, hobbies, and passions live their lives while following a vegan lifestyle.
The movie follows ultrarunner Yassine Diboun as he journeys miles into the wilderness, running from a past that deeply affected his family and nearly cost him his life; and Renee King-Sonnen, who fell in love with the farmed animals on her husband's ranch and was determined to do whatever she could to create a sanctuary; and Jerri Hastey owner of food truck Seed On The Go who wishes to share delicious eye-catching food with the masses; and young Genesis Butler who at the tender age of 3 asked her mom where her chicken nuggets came from and now she's on a quest to protect all animals in the world.
The movie is not only about vegan folks living their everyday lives, it is being created and funded by the community! The movie is a project of Northwest VEG, a 501c(3) charity, so all donations are tax-deductible.
I took the kids to watch it at their opening in Portland. I thought it might be inspiring to see how even younger children can make changes in the world. I was very impressed with the quality of the film, how it was produced and edited. The stories were interesting and I liked how it could appeal to different people interested in different angles: athletes, doctors, musicians, animal lovers, foodies and more. From Ed Begley, Jr to Russell Simmons to David Carter, it was fun to see the many cameos throughout of celebrities in a wide variety of industries. I was a little confused by the lack of captions for these well-known people, but found out later that was intentional, and I believe meant to keep you focused on the aspect that these are everyday stories. At the end during the credits, everyone is credited, which was fun to see everyone who was involved.
There was once scene that was really hard, and made my daughter quite emotional. Not graphically violent, but a verbal description of one woman's experience in a slaughterhouse.
The movie is available to watch for free! Watching it from a perspective of already being vegan, I would be very interested in hearing what a non-vegan thinks about it. I personally wondered if the title would narrow the appeal, but hopefully everyone can take a peek into very individual people's lives and motivations. There is something for everyone, and they did a very professional and nice job on creating this.
Save
---