My daughter LOVES the Starbuck's pumpkin scones. I decided to try to make my own veganized version. Starting with Cookie And Kate's recipe as a starting point, I made this version which turned out amazing!
I tried it both ways, and liked it better made with coconut oil instead of vegan butter and adding the aquafaba. They were still quite good without. I'm sure the nuts would make it even better. I went a little heavy on the glaze in the photo below, they are also delicious with less glaze.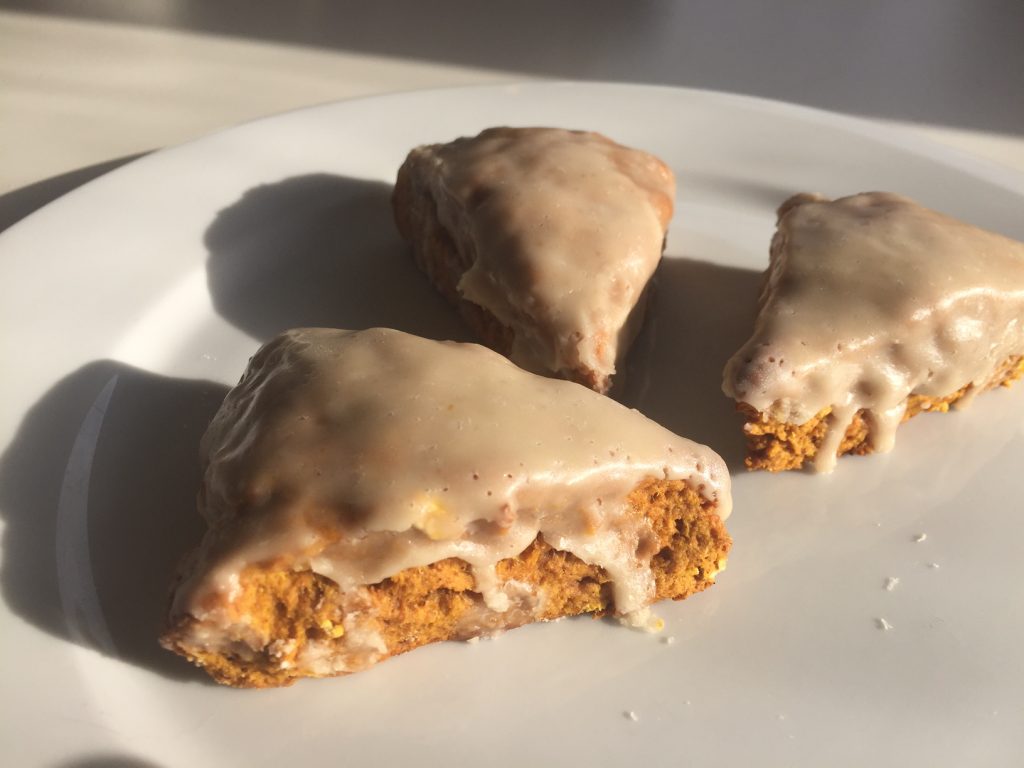 Clio's Pumpkin scones with Maple glaze
Ingredients
2 cups whole wheat flour
1 T baking powder
¼ cup brown sugar, packed
2 teaspoons pumpkin pie spice (or combination of cinnamon, ginger, nutmeg and allspice
1/2 cup oatmeal
½ teaspoon salt
⅓ cup solid coconut oil or 5 tablespoons cold vegan butter
¾ cup pumpkin puree
¼ cup almond or soy milk
½ teaspoon vanilla extract
3 Tablespoons aquafaba (optional, but adds fluffiness)
Note: You can make this with nuts and omit the oatmeal. Use 1 cup chopped raw pecans, toast them, add 3/4 into the batter, and save 1/4 to sprinkle on top of the glaze while wet. My kids don't like nuts, and have a nut-free school.

Maple glaze
1 cup powdered sugar
⅛ teaspoon fine grain sea salt
1 tablespoon melted coconut oil or vegan butter
½ teaspoon vanilla
¼ cup real maple syrup, more if needed
Directions
Preheat oven to 425 degrees Fahrenheit.
*If you are using nuts, place them in a single layer on a rimmed baking sheet lined with parchment paper. Toast until fragrant, about 3 minutes. Chop the nuts into fine pieces.
In a medium mixing bowl, combine the flour, baking powder, sugar, spices, oatmeal and salt in a bowl and whisk together. (Add *¾ of the chopped nuts if using).
Use a fork or pastry cutter to cut the coconut oil or butter into the dry ingredients.
Stir in pumpkin puree, milk and vanilla extract. Mix until you have thoroughly incorporated the wet and dry ingredients. If you must, use your hands to knead the last of the flour into the dough. Try not to over knead
Form dough on a floured surface into a circle that's about an inch deep all around. Cut the circle into 8 even slices for large scones, or a rectangle with 12 triangles for small scones.
Separate slices and place on the baking sheet covered with parchment paper. Bake for 15 to 17 minutes or until lightly golden brown.
While scones are baking, whisk together the glaze ingredients in a small bowl until smooth and creamy. Drizzle the glaze generously over the scones, dipping the scones upside down into the glaze and letting it drip down sides. While the glaze is wet, sprinkle it with the remaining chopped nuts if using. Enjoy!
Save
---