2016 had some really great moments. It also had some really awful moments, personally many of us suffered losses and for a majority, we had an unpleasant end with the election.
Thinking back on some of the good times, I never wrote about my trip to Europe in October, so in an effort to focus on one of the very positive weeks of 2016, I'll write a bit about that. This may be more personal than my other posts, but I will throw in some veg info at the end.
This trip had been on my "bucket list" for at least 5 years. My love affair with Europe began in the early 90s on my first trip there. Every country had different currency, I was 21, and had a crazy time hitting way too many countries in one month with a large backpack as my constant companion. There were overnight trips to Portugal where I "slept" on the floor of the train, and youth hostels with feral cats. I traveled for most of the time with a college friend, but we parted ways during that trip.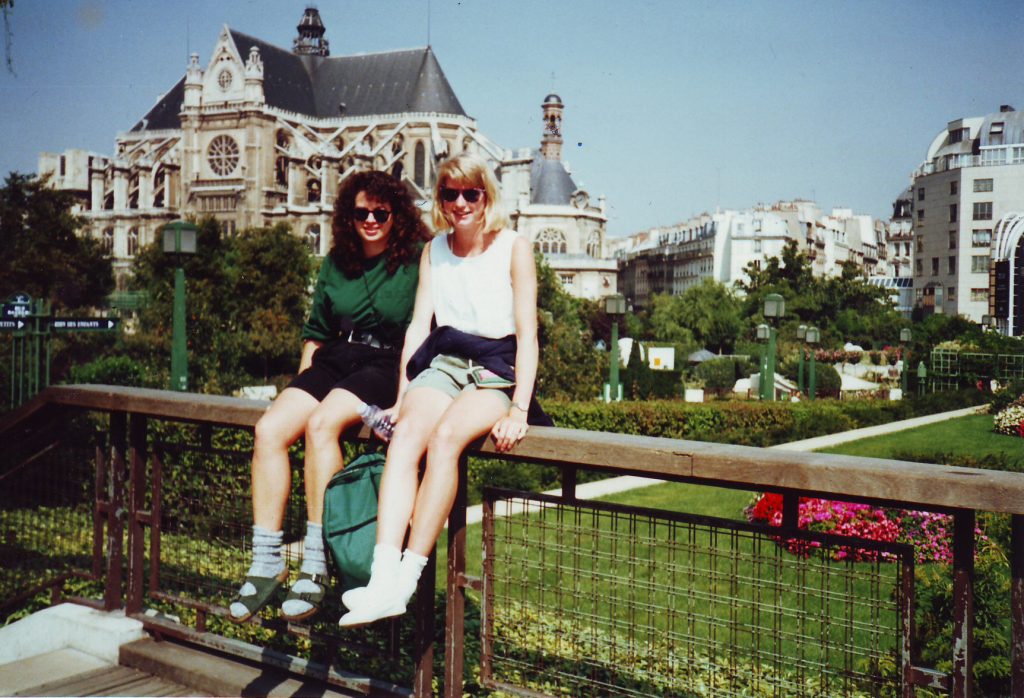 I caught the travel bug there, and especially love being somewhat lost, and decided to save my money and return alone the following year. During that solo trip I used my 3 weeks in Europe Rick Steve's Guide and safely traveled from Amsterdam to Italy and back. I felt so confident and proud of myself for managing that trip alone. It wasn't easy, but there was a freedom in making all those decisions myself that I really enjoyed. That trip changed me fundamentally.
I returned a couple of years later to experience life there in a different way. I didn't want the tourist experience, but wanted to live there, and becoming a jeune fille au pair was the simplest solution at that time. That year was one of my most defining years looking back in many ways. I had never been more than a few hours away from my family before, and it was humbling to be almost unable to communicate in the first few months. I gained a new perspective on my country once I left it.
Since that very first trip overseas, I made my vacations a priority. Even when I earned very little, I saved enough to travel to other countries. I may not have had a couch in my apartment, but that was okay. Even now, I'm not interested in spending money on skiing, concerts, fancy restaurants or any luxury items. I just want to wander around and experience a new culture.
All that is to say, since having kids and owning a business, it had been 13 years since I last went to Europe. Yes, First World Problems, but that is a very long time for me and my favorite hobby. As a designer, getting fresh inspiration is very important to me, and seeing if I could dust off my French that I spent so much time learning was my goal.
We had saved up enough credit card miles that I had more than enough for a round trip ticket to Paris. My husband wasn't interested in revisiting the places I wanted to go, and someone had to hold down the fort with kids, pets, and work. I planned my solo trip, but was with friends pretty much the whole time, and was kindly hosted the entire trip. I want to clearly thank them for this since I didn't have to spend money that we really don't have right now.
It allowed me to have a little breathing space from stress, and a chance to recharge and feel like an individual again. If you are married with kids, you will know what I am talking about. I stayed with my original host family in Lyon for about 5 days, reminiscing and having deep conversations. I feel like that time really renewed and strengthened our friendship. I had to laugh when I heard the host father, Janek, refer to me as his "ancienne fille au pair". My host mother Sylvie has a wonderful sense of humor and I loved talking to her about my life now, and "our" kids (who are now in their late 20's and early 30's). Staying in the same city where I had walked so many kilometers in my early 20s was a wonderful transition. Things had changed, but I always knew where I was.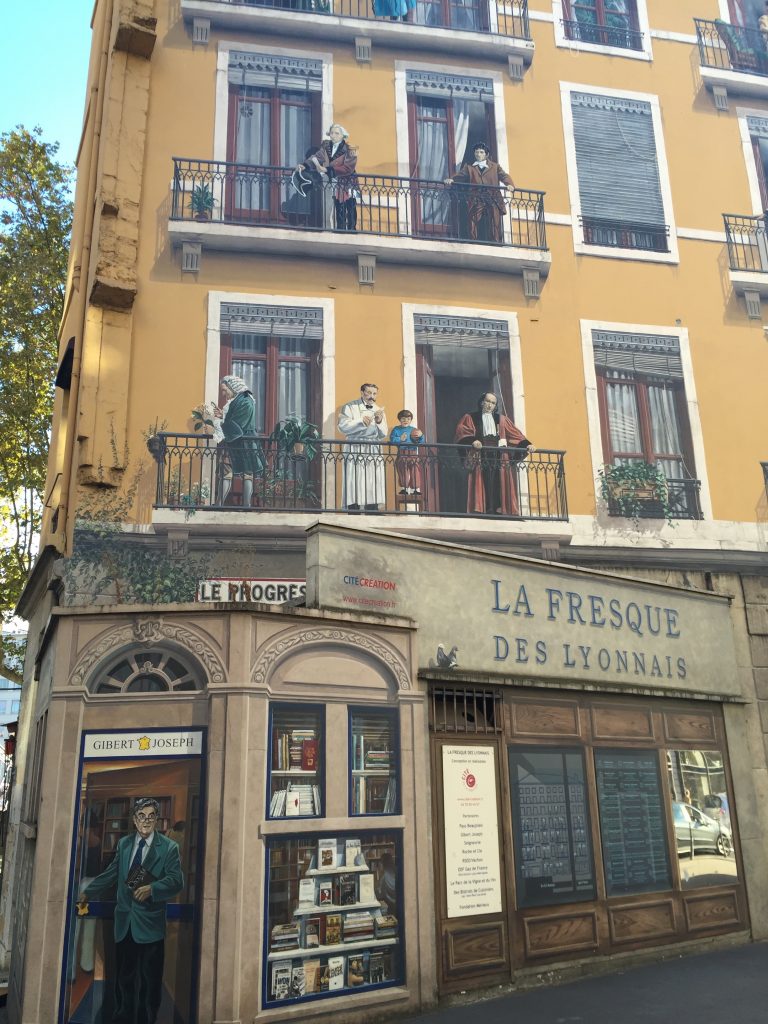 From there, I took the train to Italy and spent a week with one of my very best friends in the world. We have known each other probably 25 years, and have always kept in touch. It is one of those friendships that even if you haven't spoken for a year, it is like no time has passed when you finally do talk. Stefania stayed with us for a few months in Portland a couple of years ago and after all our years of friendship, she is a part of our family… literally. We joke that she is my parent's Italian daughter. I have never met anyone who doesn't fall in love with her spirit and personality. We have gone through ups and downs in our separate lives, but we have always been there for each other no matter the distance.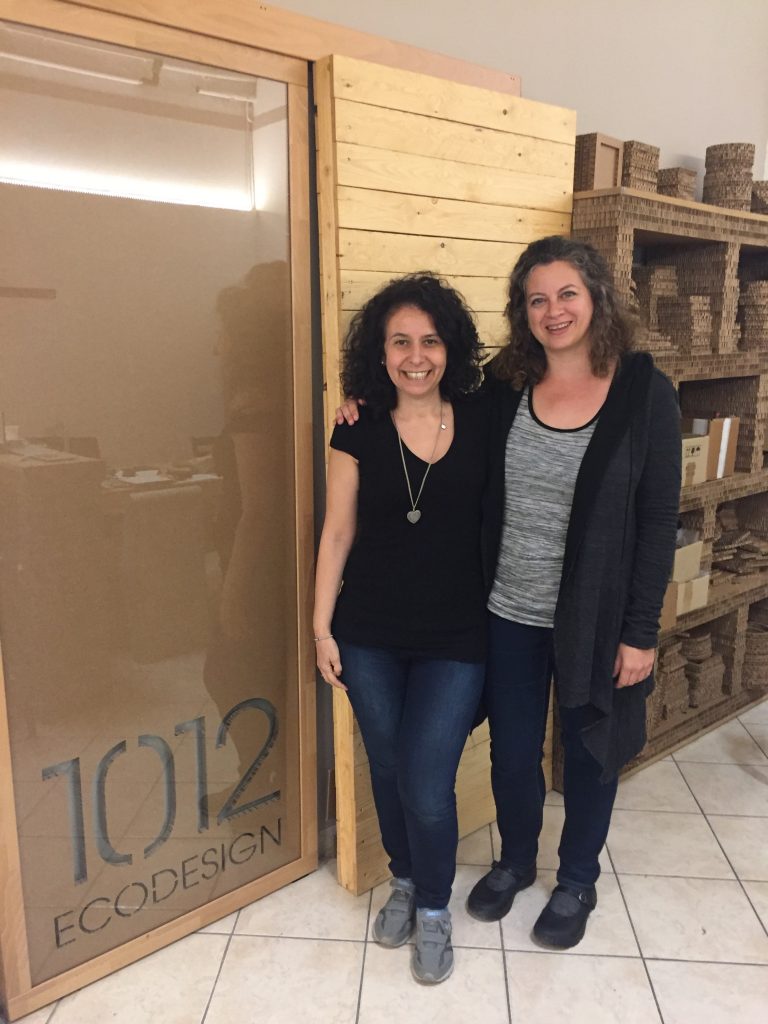 Italy is my favorite country, just barely over France. Mostly because I like a little chaos, I prefer their food, and I love the warmth of the Italian people. We spent many hours with her Italian neighbor, a kind and cool grandmother who made us homemade pasta and delicious meals while talking nonstop in her sparkly cardigan and apron. She served me ancient homemade liqueurs and simple, delicious vegetable and pasta dishes. We spent time with Stefania's family who were as welcoming as when I met them decades ago, and in fact seemed mostly unchanged.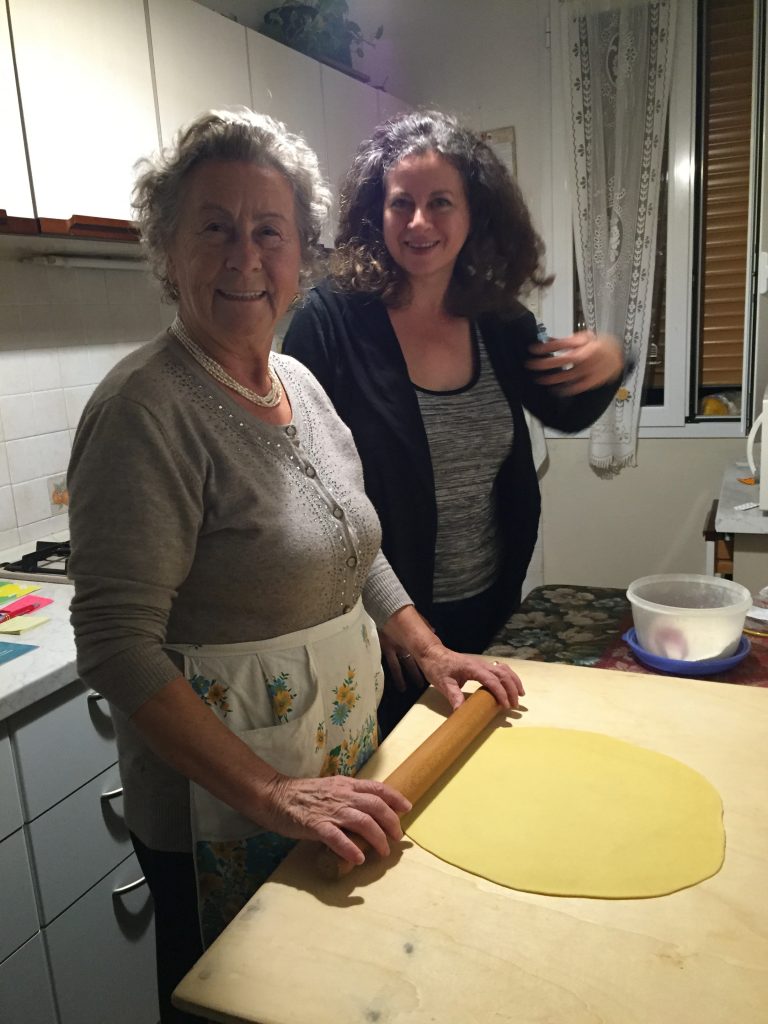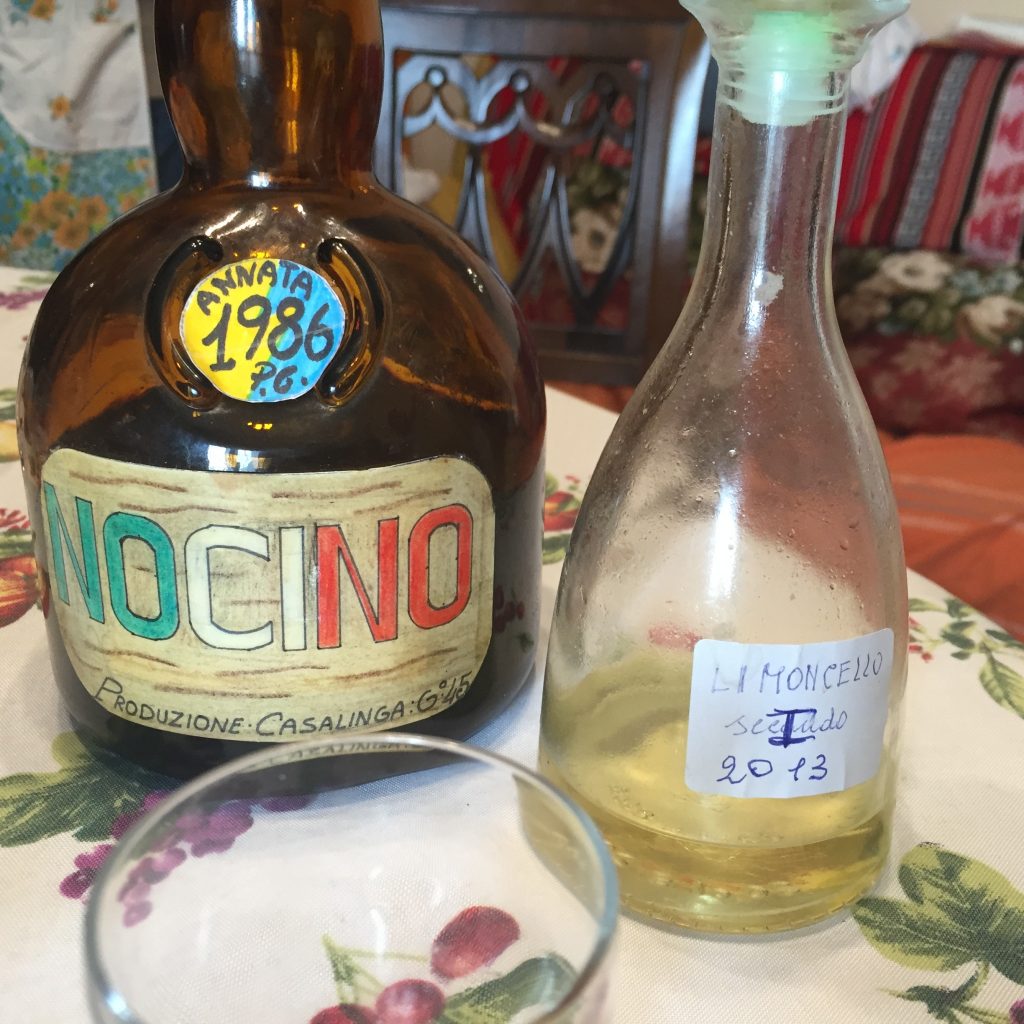 After a difficult goodbye and even worse trip back to France (my one bad travel day), I had a too short stay with my former boyfriend and his family. I was worried when he invited me to stay with him that he was exaggerating when he said his wife (who I'd never met) was "cool" with it. I did not have enough time to stay with them because of timing issues, also my trip back from Italy took way too long (the bad day). It ended up that I really wished I had more time with them, and feel like his wife, Sophie, is MY new friend. She made a delicious meal with Denis' parents, invited me to her exercise class, we had a fondue party with their good friends, went shopping together, I rode on a motorcycle for the first (and last time), and I got to meet their sweet kids. We have a funny parallel with our lives where we each have kids the same age, sex, and similar names but completely by chance. It was during the stay with them, and seeing their family life, I started to get homesick. I'm really hoping they will come visit us in the USA!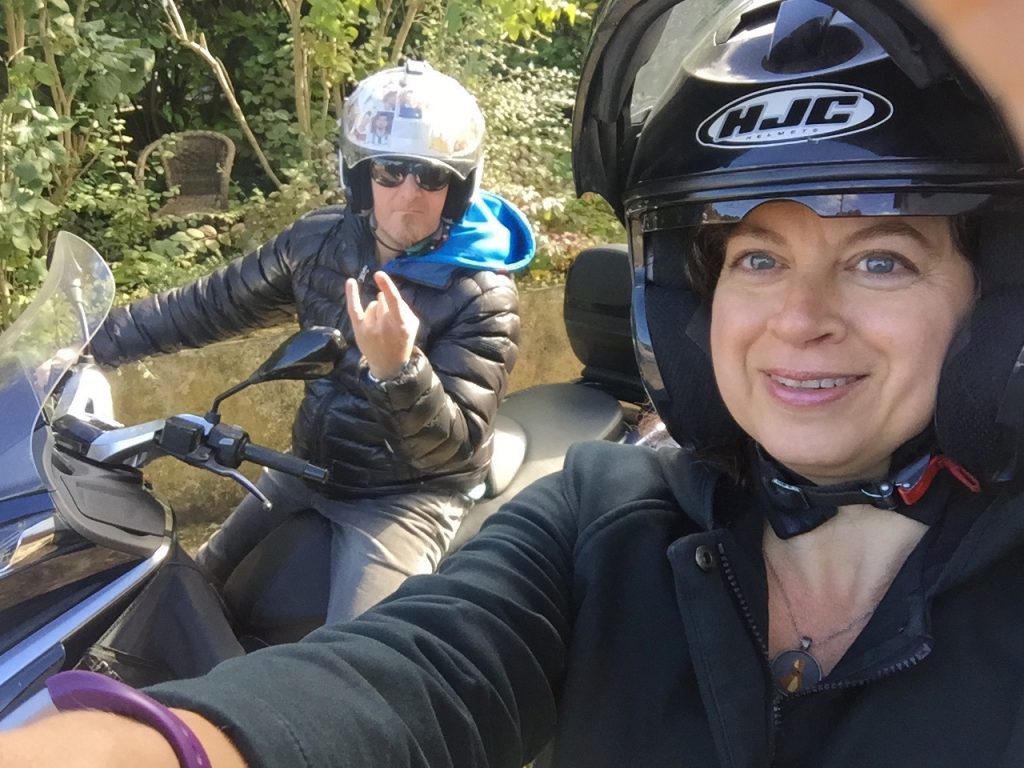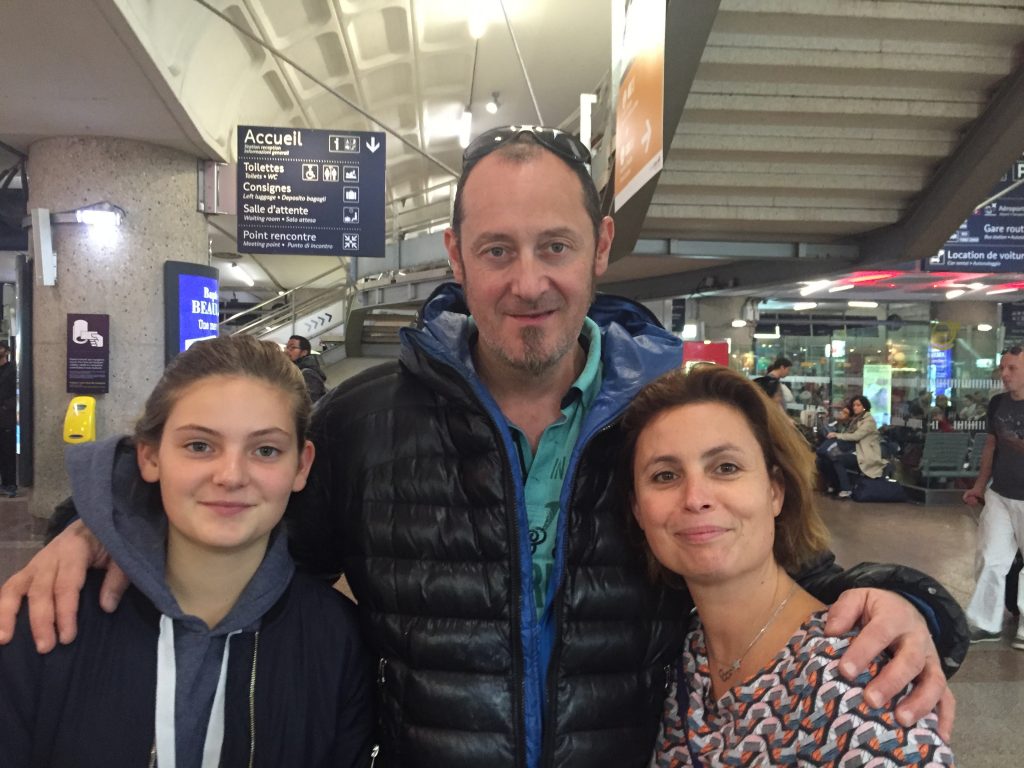 Luckily, by that time, I was near the end of my trip. Up to that point I had been completely fine with not having the kids with me as I imagined their complaints as I logged 8-10 miles/day on my FitBit, and just all the not kid-friendly aspects of the trip. Although there were times the kids would really have enjoyed things, this wasn't the trip for them. I did have Denis capture some French Pokemon which was a great gift for my son.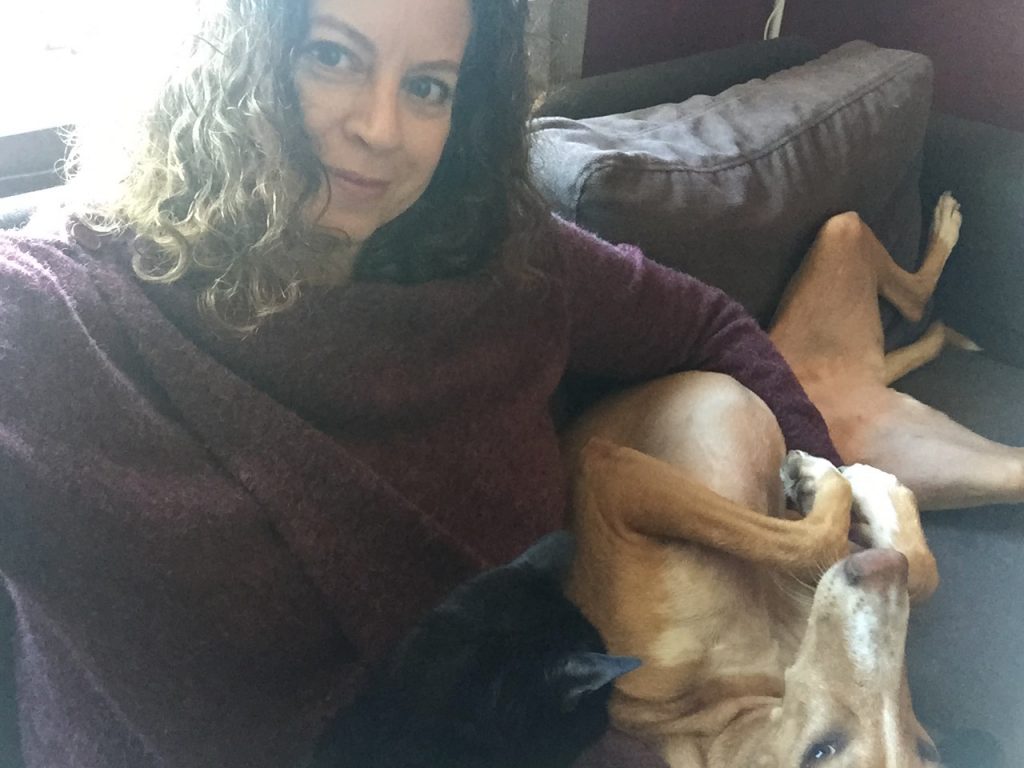 My last portion of the trip was exploring a new place. After almost 2 weeks in familiar areas, I was excited to travel to Belgium and visit Tobias and Melanie in the town of Gent (Ghent). I had met Tobias originally online through his blog The Vegan Strategist. He has a philosophy and pragmatic approach that really resonated with me. We explored some work collaboration for a book he is writing and branding, and had kept in touch for about a year. When Melanie and Tobias traveled to LA last July for the Animal Rights Conference, it factored heavily into my decision to go. They had invited me to come to Ghent, and since they are European, I felt like they might actually mean it. I still felt a bit awkward since I didn't know them that well, but decided to take a chance. Not only do I like them both personally very much, they are both doing great things for animals and are leaders in the animal rights movement. Tobias is the original co-founder of Belgium's largest vegetarian group EVA, and started the world's first official meatless day movement in Ghent. He is now consulting and training vegan advocates and organizations with the new group he formed with business partner Melanie Joy, CEVA, while his girlfriend Melanie works with EVA as well as volunteering with animal adoption.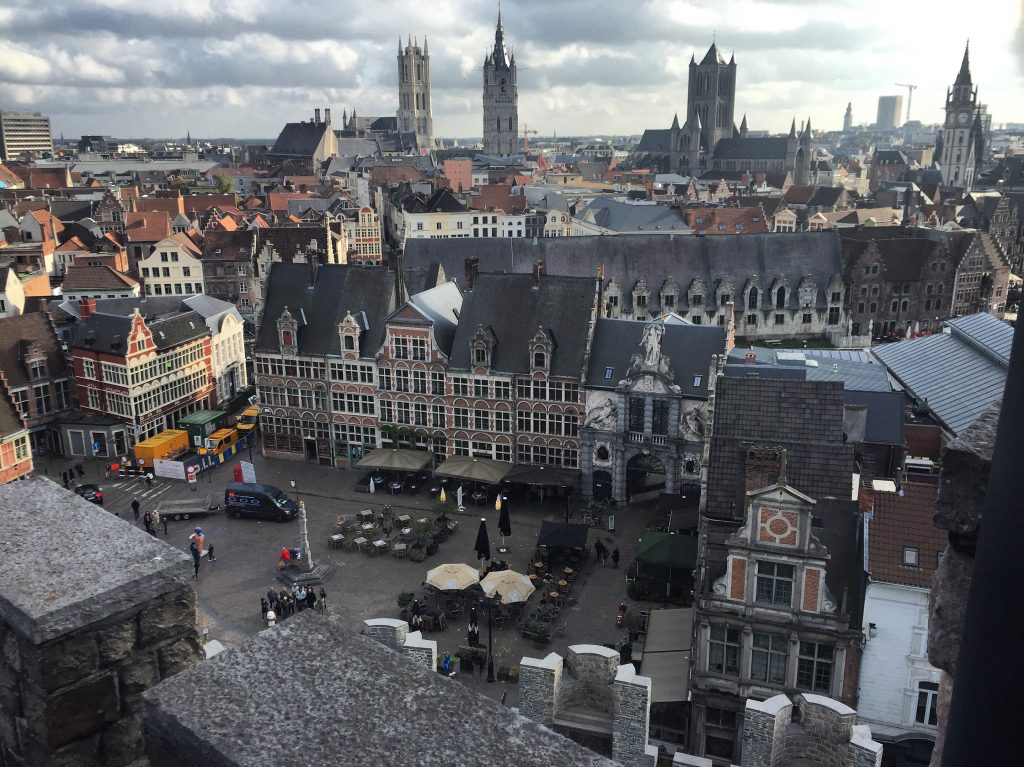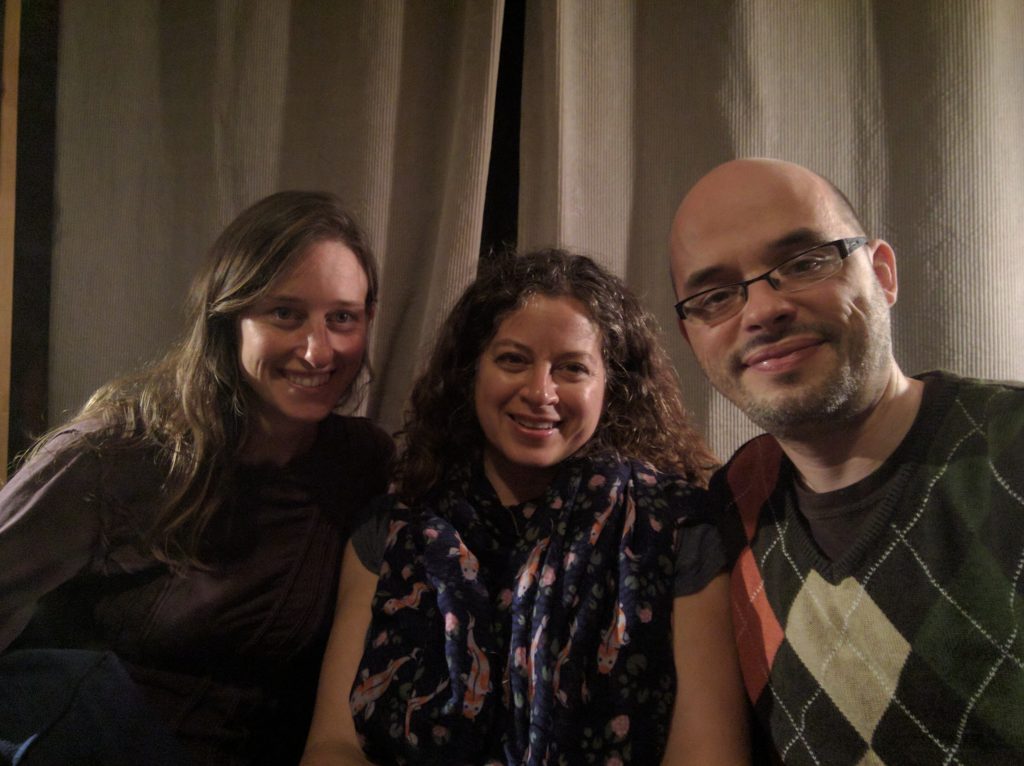 Of course, it was so worthwhile and memorable. Even though they are very busy, and I came at a time when they had a lot going on, they made time to show me their city. We each cooked dinners for each other, and I got to meet all their permanent and foster animals. They even loaned me a cat buddy to sleep with in their wonderful Air BnB on the lower level of their home. Ghent is an incredibly charming city with historic architecture and youthful vibe. It was just perfect for walking with a castle right in the center of town. I spent one day exploring on my own, and then headed back to Paris for my plane ride home. It was incredibly generous of Tobias and Melanie to invite me into their home, and I look forward to hosting them in Portland some day soon.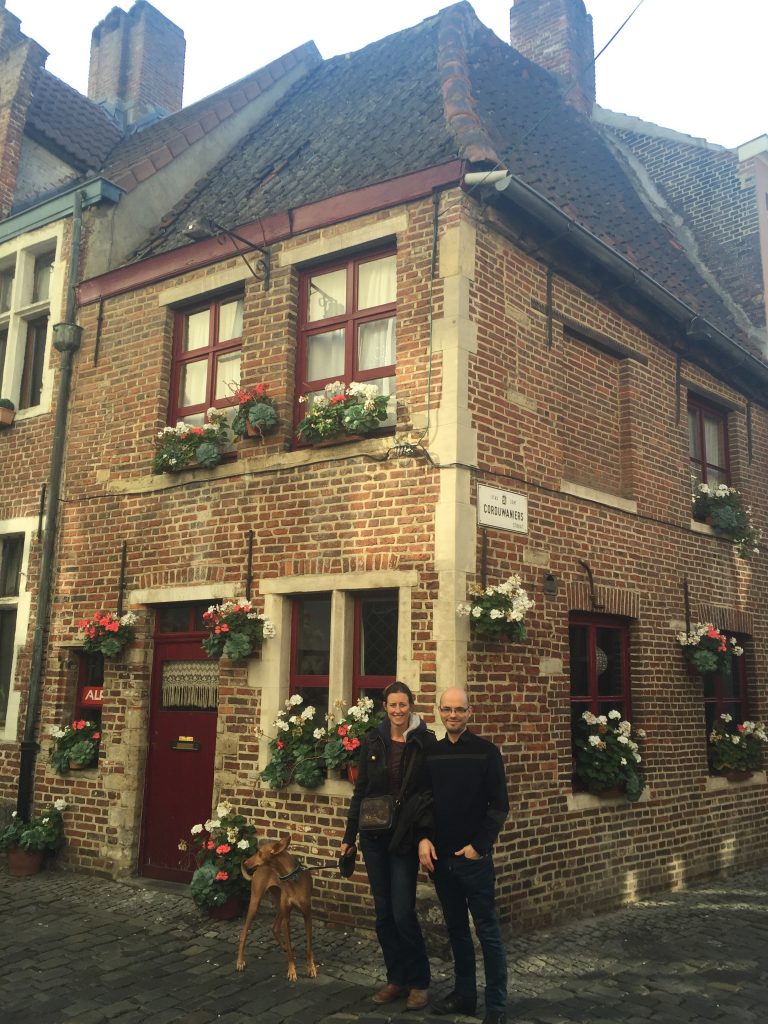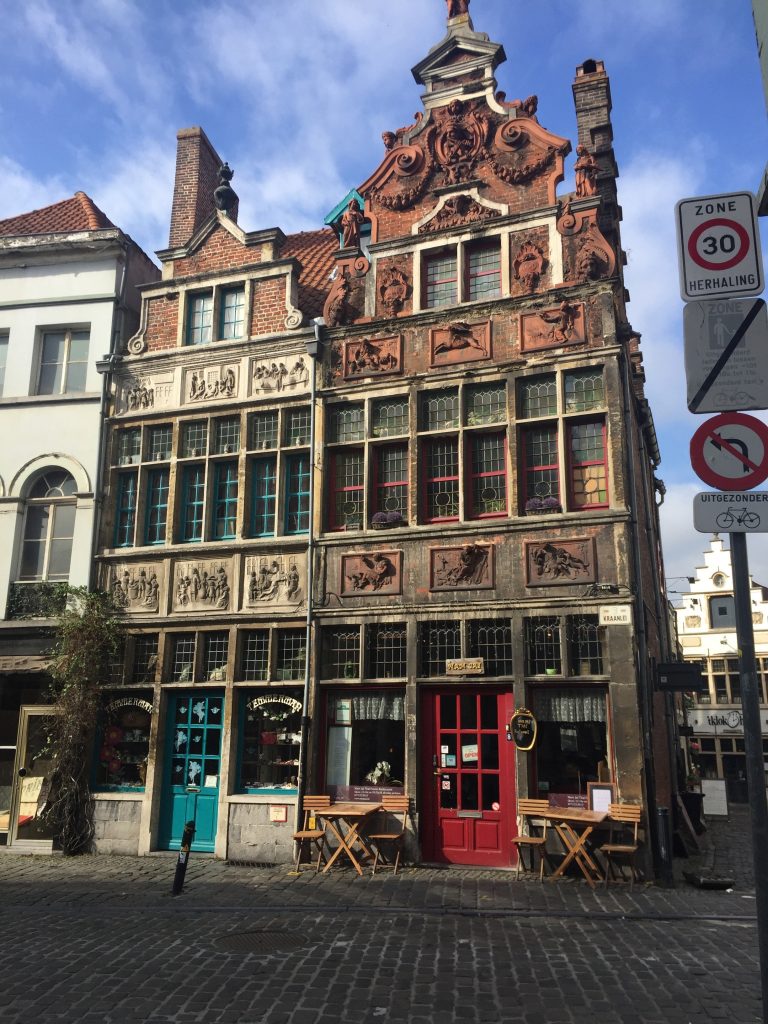 I loved being in people's home, having conversations, eating traditional foods, and experiencing their life. I skipped the most popular touristic destinations, spending the majority of my time in Lyon, Modena, and Ghent. We took day trips into nearby small cities, like Annecy and the Italian countryside.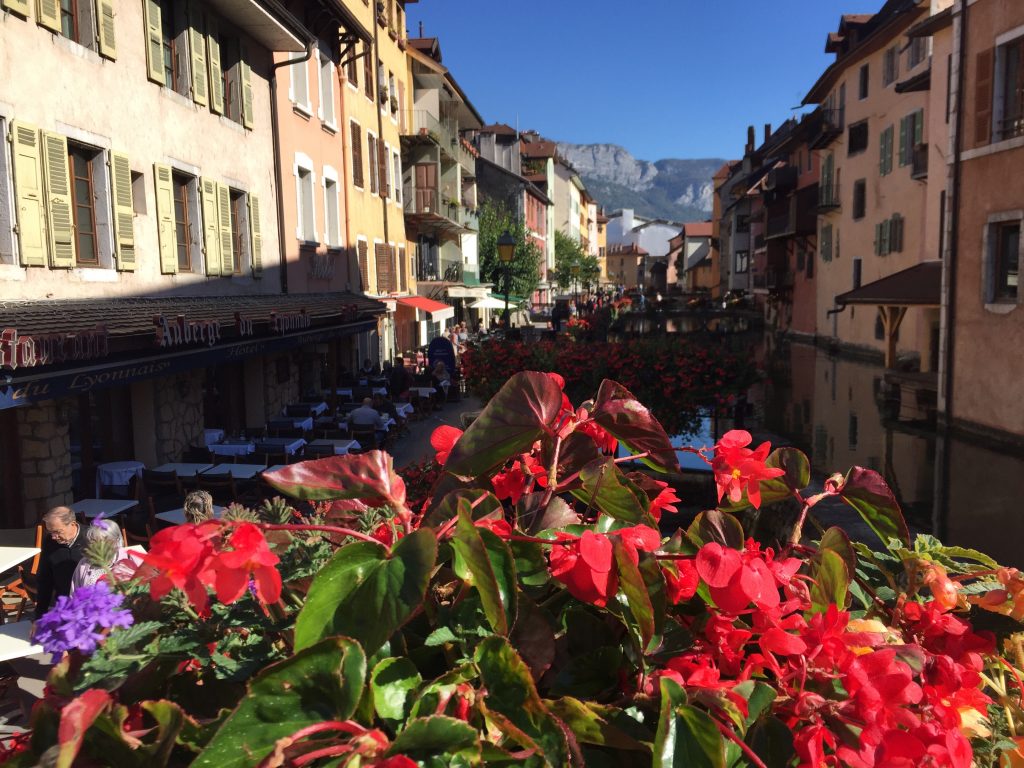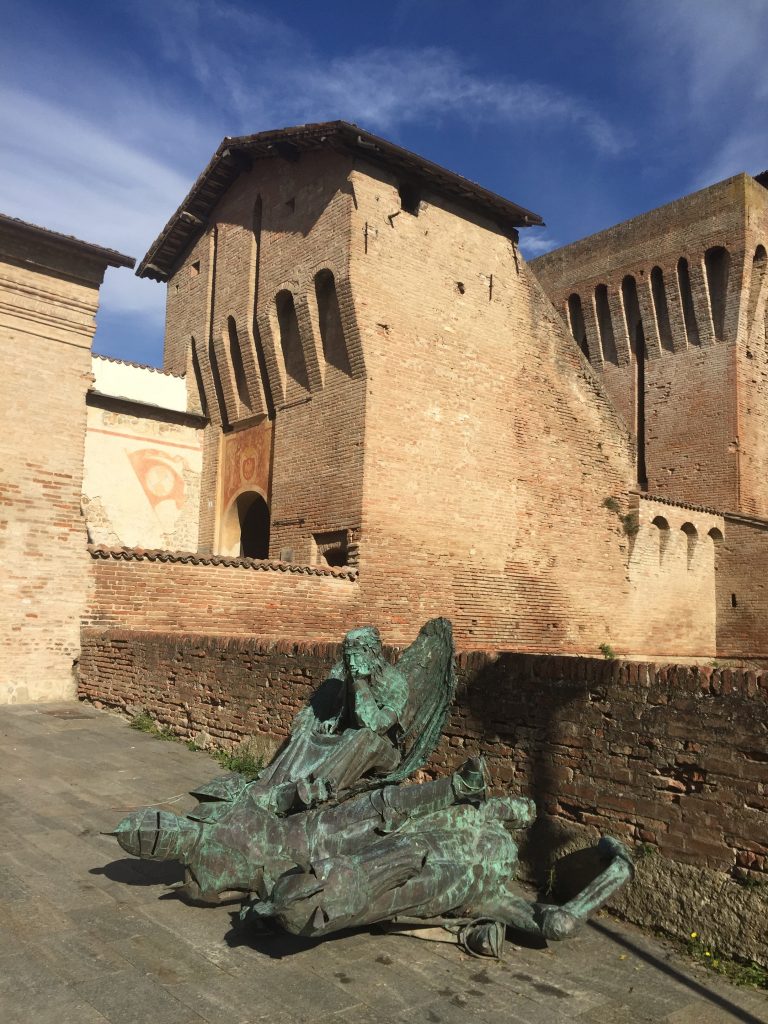 Now for the food portion. This was the first time I had traveled to Europe since becoming vegan. Our family visited Japan in 2013 but I apparently did not write about it. Let's just say it wasn't the easiest and we were all pretty sick of udon by the end!
So, let's talk about veganism in France. Not that popular in Lyon, a city known for it's meat-centric cuisine. I found a few bio grocery stores which offered some very interesting French twists to their cuisine- Tofu a la Provencale and such.
When I lived in France in 1994-95, I was not making enough money to eat at fancy restaurants, and probably ate more at the local kebab stands than anywhere else, if I even ate out. Mostly I had meals with the family where I had a wide experience. I enjoyed their wine, breads, cheese and desserts very much. They tried introducing me to cuisses de grenouilles (frog legs), boudin (black sausage), escargot, andouille, and one memorable day, tiny little whole birds.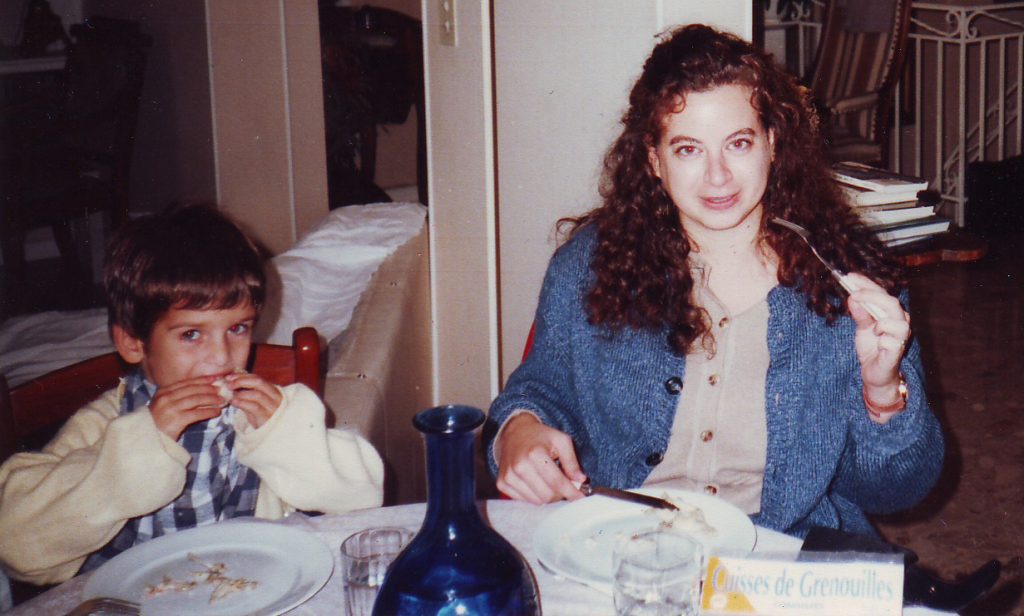 Looking back, I now realize I was a closet vegetarian my entire life. I would only nibble a sample of these specialty items, and in the case of the birds I had to excuse myself completely. The kids complained bitterly about the way I cooked their bifteck haché (ground beef patties) until they were very well-done with no blood rather than the very rare meat they preferred. I didn't want my food to have association with animals- no blood, bones or veins, no fish, shrimp or birds with heads especially! I know there are people who change to veganism who didn't have these issues, but for me, I did not want any close associations with animals when eating meat.
During my trip, I did the best I could. I found one strictly vegan restaurant in Lyon, and it was mostly deserted. Our vegan food in Portland is so good and plentiful, it seemed to be more difficult to me, just because it is usually so easy.
In Italy, it was a lot easier to find vegan food, and their meals were more naturally able to be vegan. My friend doesn't eat parmesan, so we had a lot of delicious pasta and vegetables. Most restaurants there had vegan food too.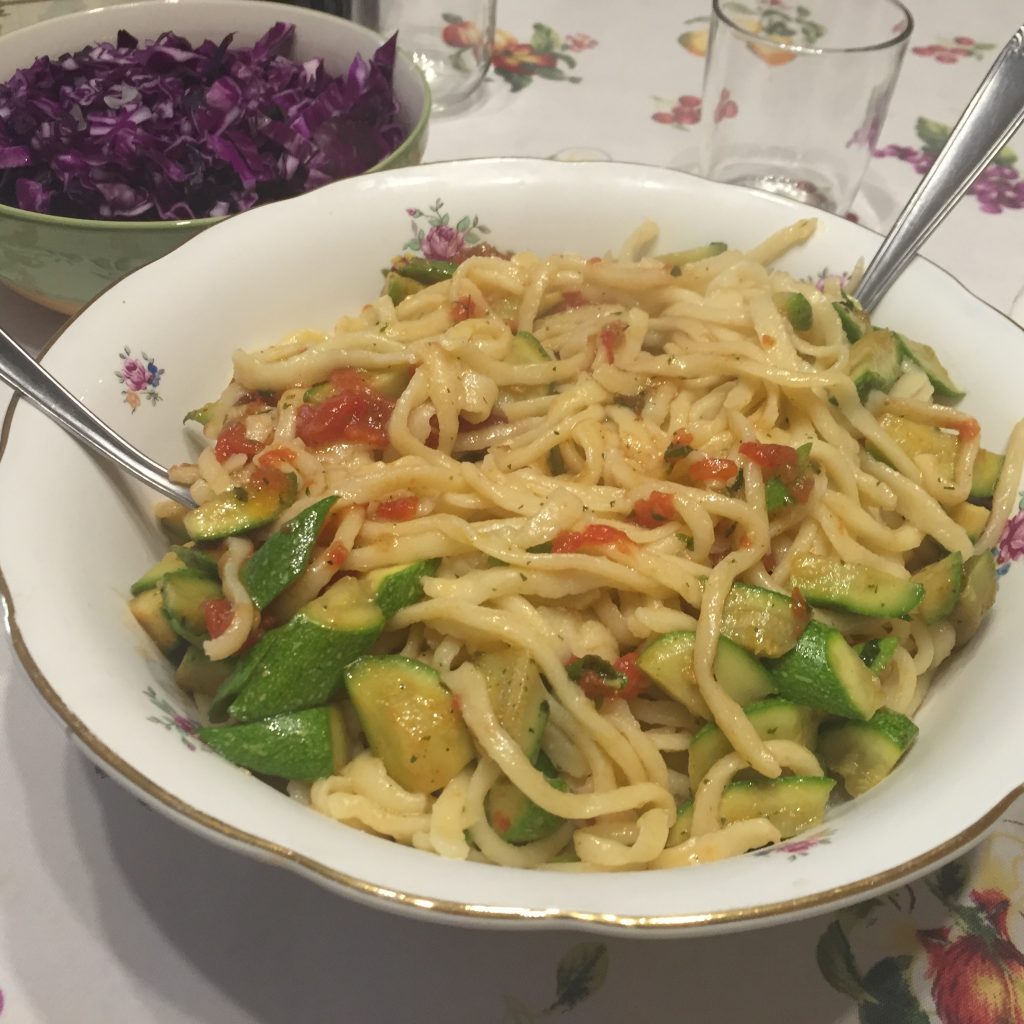 In Belgium, Ghent is one of the most veg-friendly cities in Europe, and since I stayed with vegans, it was no problem.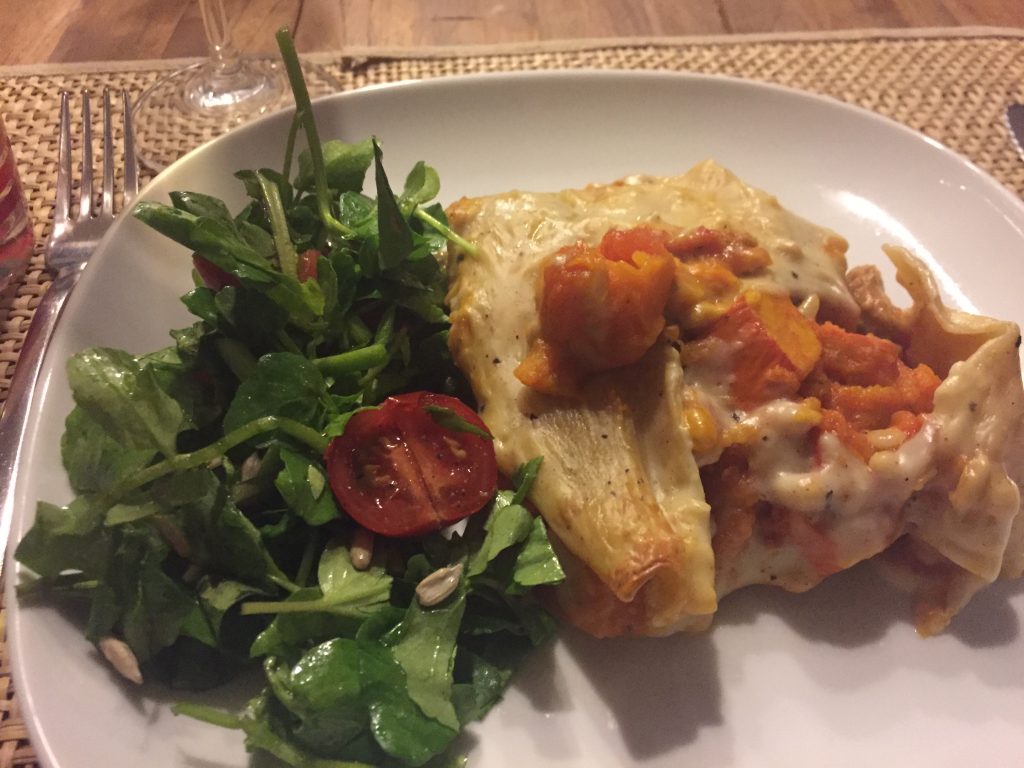 There were a few times in people's homes or at a train station, I had a vegetarian option. I know that the conversations about veganism that I had with my friends in France were more worthwhile than my personal purity. They went out of their way to accommodate me, and I did my best to make that not too onerous. The interesting thing about having some dairy and egg, was that I didn't feel like, "I have missed this so much". My taste buds have changed so much that it just isn't something I want to eat anymore. If I wanted to eat it often, I would become vegetarian.
The Vegan Society, the oldest society formed in 1944 by Donald Watson defines veganism as "…a way of living that seeks to exclude, as far as possible and practicable, all forms of exploitation of, and cruelty to, animals for food, clothing and any other purpose." I think the definition of possible and practicable are up for interpretation, and I feel that I follow this.
I came back to Portland excited to see my family. I had renewed bonds with my new and old European friends who I treasure, and a comforting sense that even though I am not 24, I can still walk all over the city and navigate foreign cities alone. After almost two decades of leaning on my husband to navigate and give input, it was nice to know I can be independent too. Conversely, this trip actually would not have been possible without my husband's support. He had to manage everything in my absence including two pets that needed veterinary care.
As I returned in the plane, stopping in Iceland on the way back, it felt incredibly indulgent to take this types of pleasure trip. Along with my fellow travelers, some who fly more often and stay a shorter time it has become something we don't necessarily consider a huge privilege or luxury.  I'm glad I took that trip, but at the same time felt quite guilty about the environmental impact. Especially thinking about how it cost me nothing for that flight that was the biggest carbon footprint for my year. It reminded me of the idea of the collective concept around veganism, and also societal acceptance: "Why shouldn't I fly, everyone else does", or "It won't make a difference if I don't take the plane, it will fly regardless". Why shouldn't I eat meat, everyone else does". "It won't make a difference if I stop eating animals". I don't know the answer, but being aware and thoughtful about the impact of our choices, trying to balance our actions, and lightening the burden when possible will cause some change. Ultimately, I think economic pressure will be the deciding factor in both animal products as well as travel. If you can't fly across the country for $300, or halfway around the world for free, you will make changes.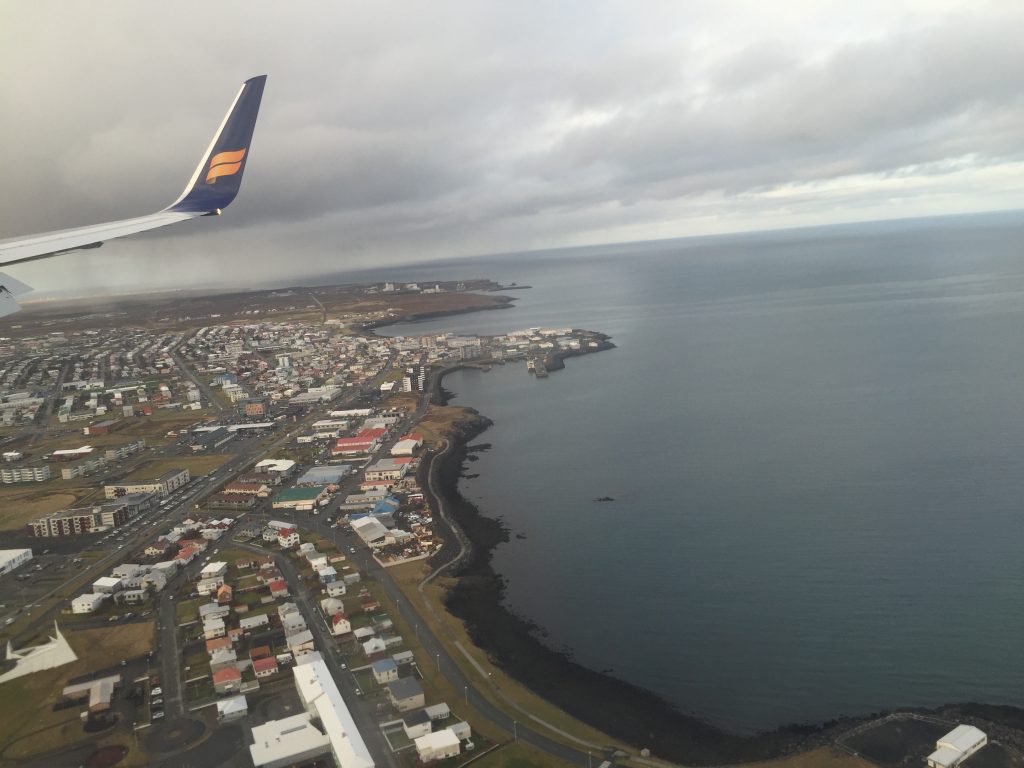 Wow, I am all over the place with this post. I need to wrap up the ramblings. 2016, you were a crazy, memorable year for sure! Thank you for the great moments, and let's hope 2017 will be even better. Keep your minds and hearts open. Happy New Year!
---