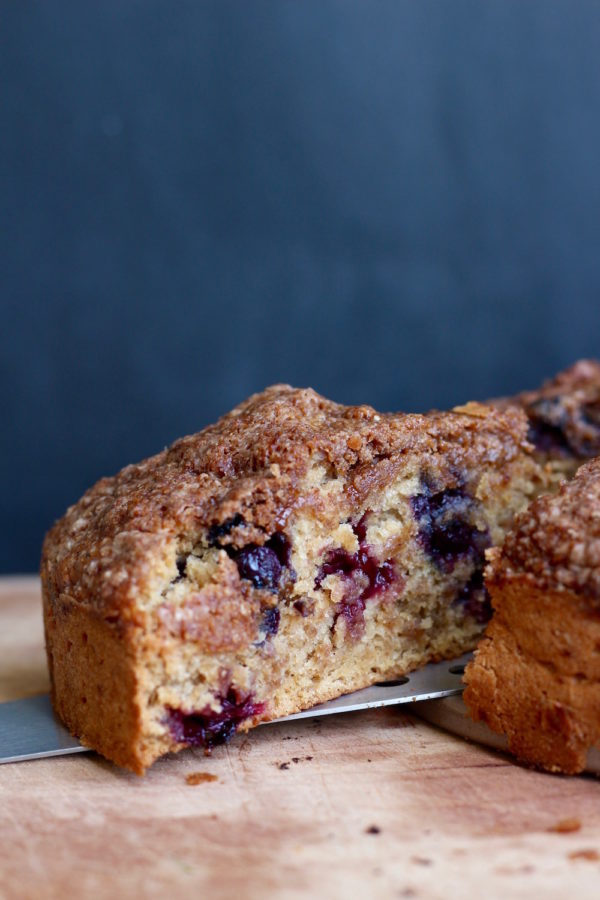 I'm sharing  this recipe from the Conscientious Eater because my kids devoured it immediately, and my daughter requested it for her birthday cake.
I think what I liked about it was the balance of sweet and salty. I did not have coconut sugar, but subbed brown sugar in the batter, white sugar for the topping. When I make this again, which will be soon, I will try the reverse so the top doesn't appear so white.
Super good, and I always have coconut oil on hand, and ground flax seed.
Here is the recipe, image from Conscientious Eater.
VEGAN BLUEBERRY COFFEE CAKE
Made with fragrant coconut oil, juicy blueberries and covered with a sweet, crumbly streusel topping, this Vegan Blueberry Coffee Cake is the perfect recipe for a special breakfast or afternoon coffee break!
Author: Faith VanderMolen
Recipe type: Desserts
Cuisine: American
Serves: 8 servings
INGREDIENTS
1 flax egg (1 tablespoon ground flaxseed + 3 tablespoons water
2 cups all-purpose flour
2¼ teaspoon baking powder
½ teaspoon salt
½ teaspoon cinnamon
5 tablespoons softened coconut oil
½ cup coconut sugar
1 teaspoon vanilla extract
1 cup non-dairy milk
1 cup fresh or frozen blueberries
STREUSEL TOPPING:
3 tablespoons coconut oil
¼ cup flour
¼ cup coconut sugar
½ teaspoon cinnamon
¼ teaspoon salt
DIRECTIONS
Preheat your oven to 350 degrees and grease an 8 inch cake pan (preferably springform) with cooking spray.
In a small bowl prepare your flax egg by whisking together 1 tablespoon of ground flaxseed with 3 tablespoons of water. Set aside to thicken.
In a mixing bowl, whisk together the flour, baking powder, salt and cinnamon.
In a separate bowl, cream together the softened coconut oil and coconut sugar until combined. Add in the thickened flax egg and vanilla and cream again until a wet mixture forms.
Alternately add in the flour mixture and the 1 cup of non-dairy milk to the oil/sugar mixture, being careful not to over mix.
Once combined fold in the blueberries.
Pour the batter into your prepared cake pan and set aside.
In a bowl prepare the streusel topping by combining the 3 tablespoons of coconut oil, flour, coconut sugar, salt and cinnamon in a bowl and using a fork to cut the coconut oil into the dry ingredients until a crumby mixture forms.
Evenly sprinkle the streusel mixture over the batter.
Bake the cake for 30 minutes. Remove from the oven, cover with aluminum foil and bake for about 10 more minutes or until toothpick inserted into the center comes out clean.
Allow the cake to cool for a bit before serving.
---