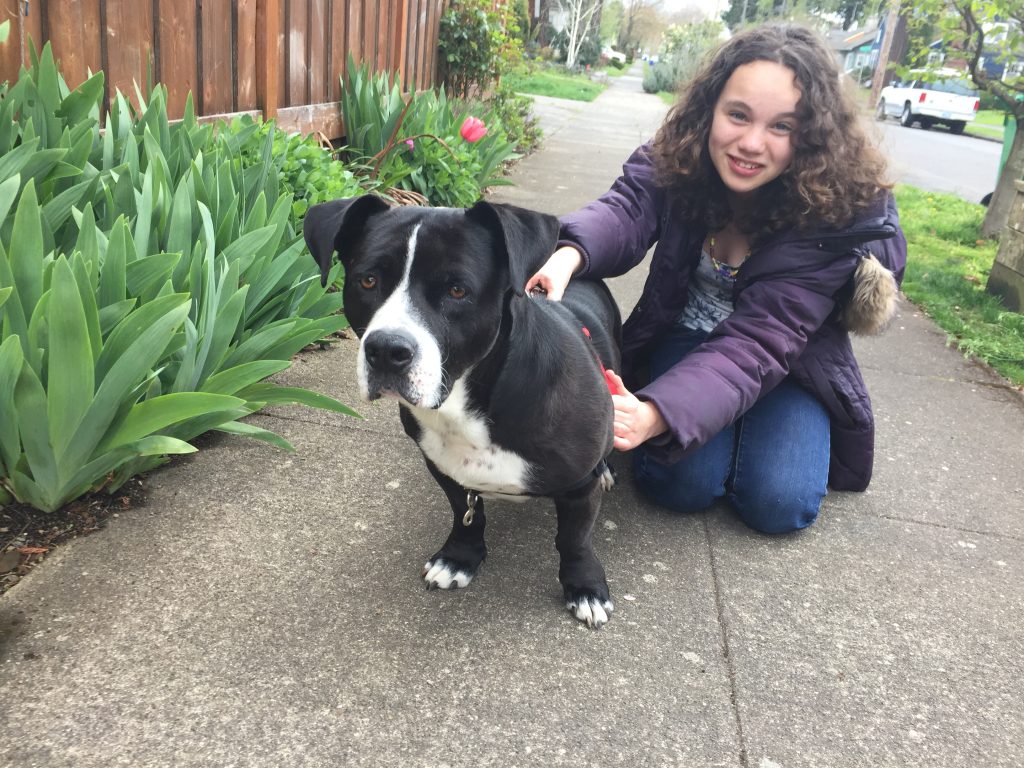 Recently we decided to get our very first family dog. My daughter has wanted one since she could talk. She is now 14. Although it was very tempting to get a specific breed we liked, I wanted to adopt a rescue dog. It seems like it would be so easy to adopt a dog, so many need homes. I found that it actually required some patience and persistence which was more than rewarded.
We looked at many local shelters like Oregon Humane Society, Pixie Project, and Petfinder which consolidates many of those into one searchable database. Our parameters were that we wanted a "young or adult" dog- not puppy or senior. Not too large.
We struck out several times where we found a dog we liked but someone else adopted him/her first, or we were found not to be suitable because of the age of our children, having a cat, and even not having another dog already. It can sometimes seem like there is a lot of detail  and information needed when filling out applications, however these rescue organizations go through a lot of time, cost and effort, and need to ensure that these animals get a permanent home.
In the end we were fully rewarded with a dog I never would have expected to get, and wasn't even on my radar. Boots Walker Texas Lowrider caught my eye on One Tail at a Time's website. He looked pretty small with short legs and like a mellow couch potato. His bio said, "He'll steal your girlfriend".
When we went to his foster family's home to meet him, I was surprised at how much larger he was in person. He is a Basset Pit Bull mix and has a sturdy body. He weighs 60 pounds and is impossible to budge when he plants his paws. His personality is pure sweetness and he has a very calm demeanor. We fell in love with him right away.
Our dog had already been neutered, immunized and microchipped.
I still love pugs, frenchies and other purebred dogs- but Oreo (formerly Boots) is such an amazing unique guy that I would choose above any other. "Adopt, don't shop" now has new meaning for me once I learned that this amazing pup was just days from being put to sleep due to treatable kennel cough. Oreo looks at me in a way that says he is so grateful to have a loving home (or maybe he just adores me). If you work with a shelter who does do fostering first, there is the bonus of knowing what your dog's personality is like beforehand. I think my husband does feel like Oreo stole his wife, but it's okay because he fell for him too.
We got extremely lucky to have found our match. Oreo is a great example for how adopting can be amazing. Do some research, read this guide about pet adoption, and learn how to find and care for that very special animal who needs a loving home.
---