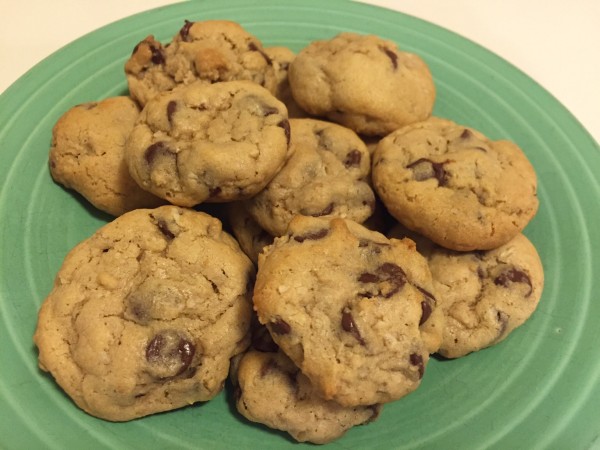 Tonight the kids were begging me to make cookies. The chocolate chips I bought had been opened and were almost half gone, so it was just a matter of hours before there would not be enough left in the bag to make cookies. Are we the only ones with this problem?
I googled best vegan chocolate chip cookies, and voilà! This recipe only took about 10 minutes to put together, and I had all the ingredients on hand. Best of all, when you make vegan cookies you can eat the batter without worrying about salmonella! I have to say, not sure why the egg is needed. There was nothing to replace it, no extra oil or anything.
Somehow I always end up modifying the recipe, usually because I don't have something. This time, I used one stick of earth balance shortening that I had on hand instead of the coconut oil it asked for. My coconut oil was hard as a rock from being in the fridge. After I made the batter, it seemed good, but I like a little more texture to my cookies so I added 1/2 cup oatmeal, and about 1/4 cup coconut flakes to add some flavor. I feel like you could make this recipe your own by adding nuts, dried fruit or whatever you like.
Result: Everyone loved them! Started with 3 dozen, and ended up with only a dozen since the warm cookies were so enticing. No one would guess they were vegan for sure.
Check out the recipe here, and I look forward to seeing their other recipes!
---