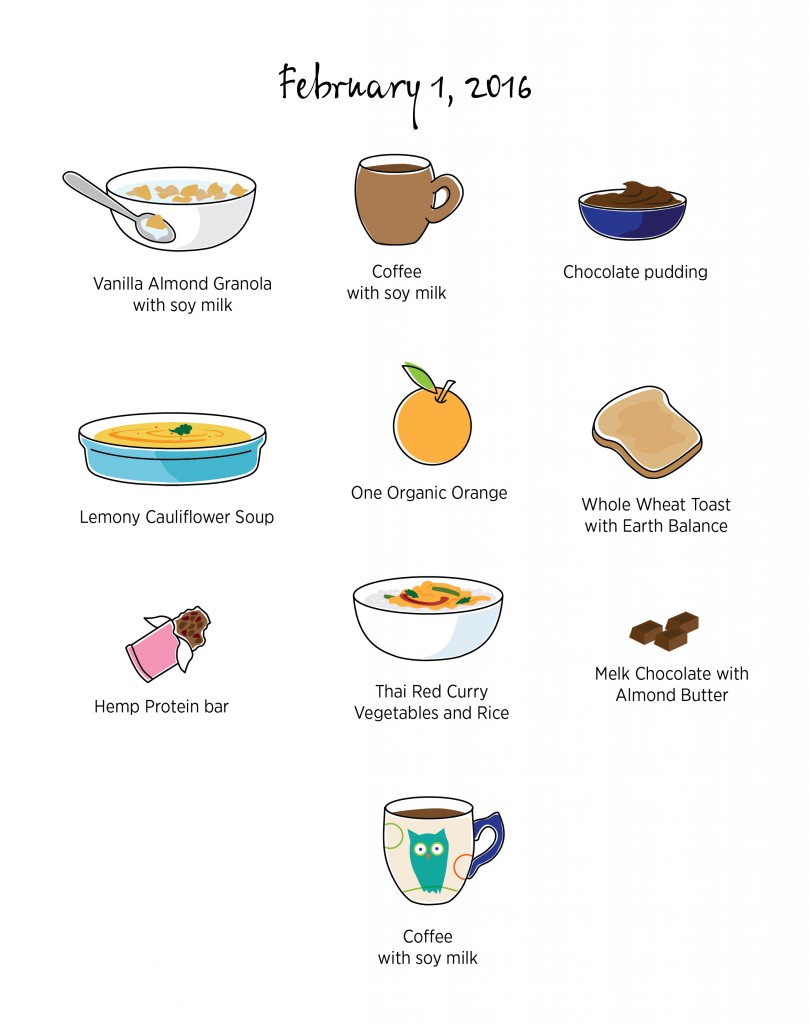 Although I enjoy the process of sketching, I am trying this new style. We have plans to expand the food idea so others can use it too.
Not only do I like to keep track of what I eat, it gives people unfamiliar with a plant-based diet an idea of what we eat. Also, I am doing a lot more illustration and art lately so this fits in well. Today I got out the paints and will be painting all my canvases (and in some cases re-painting).
For lunch today I had yesterday night's soup, Lemony Cauliflower Carrot soup. It was not as good as I hoped (may be done with NY Times recipes), which was disappointing since I spent $7 on miso paste for this! Oh well, I will make use of it. It won't be making it into the regular rotation, and Miss Picky wouldn't eat it. Last night we had it with Roasted Portobello mushroom sandwiches, which were very good.
For an after-breakfast snack I had some of the avocado pudding. I liked this recipe okay, but didn't have enough peanut butter to make that flavor come through. Next time I am going to try a recipe without banana. Everyone loved it except Ms. Picky who could detect the banana with her sensitive palette.
The only thing I actually made today was the Thai Red Curry with vegetables for dinner. I had the curry paste on hand, and used some green beans instead of yellow bell pepper. Everyone loved this, and I will make this one again for sure.
Lastly, some snack bars and chocolate samples we got from the Veg Fest Challenge.  And, tonight I wasn't sure whether I wanted coffee or wine, strangely I can usually go either way.
---